Marathon MX series brushless three-phase AC synchronous generator is a new product developed by marathon electric USA with permanent magnet generator (PMG) excitation system and the first digital voltage regulator (BE2000E); MX generator can form fixed or mobile power supply with all kinds of imported or domestic diesel engines, and can also form special power supply with other prime movers; MX generator has unique design, compact structure, excellent performance and reliable operation. It is especially suitable for non-linear load as power supply. It is the preferred generator for computer, communication center, commercial building, hospital, airport and other important occasions.
1. Marathon generator structure
Marathon MX series three phase generator is manufactured according to NEMA open protection structure, including main generator, three-phase AC exciter, permanent magnet generator (PMG) voltage regulator and output box etc.
Marathon MX series three phase generator is single bearing or double bearings structure, frame is welded with steel plate, end cover and interface are made of high strength cast iron. Flange joint and elastic joint piece of single bearing generator made by SAESAE standard.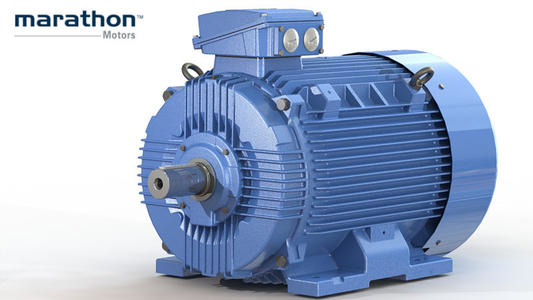 The stator punch of the main body has a unique design, which can lead out four outgoing lines or ten or twelve outgoing lines according to the needs.
The rotor of the main body is of salient pole type. The integral salient pole punching piece is cast aluminum, die cast or welded to connect the core and damping winding as a whole. The magnetic field winding is directly wound. The winding layers are filled with thermosetting epoxy resin, which has good electronic insulation and reliable mechanical strength.
BE2000E digital voltage regulator, powered by permanent magnet generator (PMG), adopts three-phase true effective wave planting detection, and is equipped with voltage regulator with various working and protection functions. The regulator adopts fully sealed structure, which is resistant to humidity, vibration and impact in harsh environment. Its anti-interference performance meets the requirements of MIL-STD-461C (please refer to the manual).
PMG generator power supply voltage regulator makes the power supply of voltage regulator isolated from the load, and is not affected by the load voltage waveform distortion and voltage fluctuation, so that the generator has nonlinear load capacity, dynamic performance and starting motor capacity.
2.Marathon three phase generator performance
Marathon generator shall be able to operate continuously at full load under the following conditions:
(1) The temperature of surrounding medium (air) is ≤ 40 ℃, and the ventilation is good.
(2)The service temperature of the marine use type is ≤ 45 ℃.
(3) Altitude ≤ 1000m.
3.Electrical performance
(1) Stable differential pressure ≤ 0.5%.
(2) Transient voltage regulation rate + 20%, - 15% (60% in, COS) Φ. 4 lag).
(3) The voltage adjustment range is 95% ~ 105% UN.
(4) Sinusoidal distortion rate of no load voltage wave ≤ 5%.
(5) Steady state short circuit maintains 300% in for 10 seconds.
Guangxi Dingbo Power Equipment Manufacturing Co., Ltd. has a modern production base, professional R & D team, advanced manufacturing technology, perfect quality management system, remote monitoring of Dingbo cloud service guarantee, from the product design, supply, commissioning, maintenance, to provide you with a comprehensive, intimate one-stop diesel generator solutions. We can provide 25kva-3125kva three phase generator with open type, soundproof type, container type, trailer type and mobile power station etc. All product has certified by ISO and CE. Please call us +86 134 8102 4441( same as WeChat ID).