Volvo diesel generator sets manufactured by Dingbo Power can output the rated power, since the company founded in 2006, The genset has widely used in factories, mines, construction sites, rural areas, small towns as fixed or mobile power stations, for power and lighting.

A. Main performance of Volvo diesel generator set
1. All Volvo generators adopt injection technology, and each machine is of electronic injection type, which is different from the electronic speed control system of other engines.
2. Volvo generator sets all use the original imported Volvo special antifreeze. The generator sets are already equipped with Volvo's antifreeze before leaving the factory. Different from other brands of engines, users need to prepare their own antifreeze.
3. The radiator of Volvo diesel generator set has no water outlet, it only has an antifreeze replenishment port. Therefore, the Volvo generator set is fully filled with antifreeze when it leaves the factory, and the user does not need to add antifreeze when using it for the first time.
4. Volvo diesel generator set at 0-100% rated power, and power factor COS=0.8-1, under three-phase symmetrical load, the static voltage adjustment rate is ≤5%, and can be within the range of 95%-105% of the rated voltage when there is no load. Internal regulation.
5. When Volvo diesel generator sets are operating under three-phase symmetrical load conditions, if each current does not exceed the rated value and the difference between the three-phase currents does not exceed 20%, the set can run for a long time.
6. When Volvo diesel generator sets are under three-phase symmetrical load, when the output changes from 0-100% of the rated power suddenly or gradually, the voltage stabilization time is not more than 3 seconds.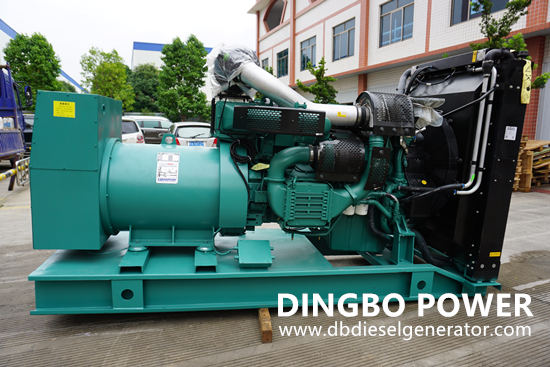 B. Introduction to Volvo diesel generator set structure.
Volvo diesel generator sets are all sliding, non-covered structures, composed of diesel engines, generators, control panels, couplings and chassis.
Except for the control panel, the rest of the components are all installed on the same chassis welded by section steel and steel plate, which is easy to move and install.
An elastic steel sheet coupling is used between the diesel engine and the generator to ensure that the unit has a cushioning effect when an impact occurs under the condition of sudden load.
The Volvo diesel engines used in Volvo diesel generator sets are mainly 5L, 7L, 9L, 12L, 16L diesel engines. For the main structure, please refer to the corresponding operating instructions.
The control panel is independent or integrated, welded by steel plate and angle steel. There are front and rear doors for easy inspection and maintenance. Various measuring instruments, changeover switches, voltage regulators, signal lights and buttons are installed on the front door of the control panel. The screen is equipped with automatic air circuit breakers, instrument transformers, etc.   
For diesel gensets that require parallel connection, various devices required for parallel operation are also installed in the screen.
C. Service environmental requirements for Volvo diesel generator sets.
1. The rated power of Volvo diesel generator set refers to the 12-hour continuous operation rate when the atmospheric pressure is 100kpa, the room temperature is 20℃, and the relative temperature is 60%. (10% overload is allowed to run for 1 hour).
2. When Volvo diesel generator sets are used continuously for more than 12 hours, their output power is converted at 90% of the rated power.
3.When Volvo diesel generator sets are used under different atmospheric pressure, ambient temperature and relative temperature, the output power should be corrected according to regulations.
Dingbo Power can supply Volvo genset from 58kw to 560kw, covering open type genset, silent diesel genset, container genset, trailer genset and mobile power station. If you have purchasing plan, welcome to send inquiry to us by email dingbo@dieselgeneratortech.com or call us by phone +8613481024441.
Besides, Dingbo Power has a modern production base, a professional technical research and development team, advanced manufacturing technology, a complete quality management system, a sound after-sales service guarantee, and a service network throughout the country to provide you with Volvo diesel generator set design, A full range of services for supply, commissioning and maintenance.