As the backup power supply of the data center, the diesel generator set is the last line of defense for the data center to deal with the power interruption caused by various natural disasters or other unexpected faults.
On October 21, 2020, CDCC organized a live broadcast of "Data Center Backup Power -- Reliability of Diesel Power Generation System" in Kohler plant in Changzhou to ensure the right diesel generator set for data center. At the same time, a second live broadcast site was set up to test the stability, reliability, power characteristics and power quality of Kohler KM2500 generator set, and the test results were broadcast on the whole network.
In the era of "new infrastructure", with the encouragement of relevant national policies, the deployment of cloud computing services and the construction of data center infrastructure are accelerating accordingly, and the demand for relevant equipment and services is constantly increasing. Data center diesel generator set is the key node equipment of key project and key load, and plays a vital role in the safe and stable operation of data center, so it is very meaningful to carry out the performance test of diesel generator set. To discuss more effectively the issues that contribute to data center construction, risk avoidance, and sustainable growth. On 22 October 2020, a CDCC team visited the Changzhou plant of Kohler Power Systems (China) to observe the field test of kohler diesel generator sets.
Generator set as the data center power system of the last guarantee, a great responsibility, I believe we are very clear. Then the performance of diesel engine directly affects the reliability of power supply. Data center loads and power consumption include the UPS, server, water chiller, and precision air conditioner. Active power + Capacitive reactive power + Harmonic. In normal operation, the power factor leads by 0.9-0.98, and the current harmonic distortion rate is about 10%. At the same time, the cooling unit load ratio is high, generally more than 50%, and the load is capacitive.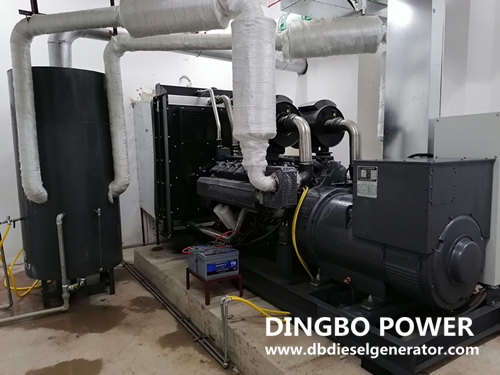 Start-up performance evaluation, simulate the transient response characteristics of the unit in a power outage, including transient voltage deviation and voltage recovery time; Frequency drop, instantaneous frequency deviation, frequency recovery time, 0~100% sudden increase or decrease.
Durability test, the reliability of long term operation after unit start-up, including long term load test to simulate 100% capacitive load of data center and 110% load under extreme conditions.
Strictly record voltage and frequency operating values during all tests; The long-term operation stability of the unit can be evaluated by voltage and frequency stability.
Heating test: record the temperature of each part of the equipment in operation to ensure that the unit is still in normal working state after long-term operation, so as to avoid shutdown due to overheating.
Test highlights are as follows:
Transient: Kohler 1800 kW chiller load capacity of 0-60%, power factors of 1 and -0.9 are better than ISOB828 G3 transient requirements. It reflects the super transient performance of Kohler under capacitive load condition with super high load rate.
Guangxi Dingbo Power Equipment Manufacturing Co., Ltd. established in 2006, is an manufacturer of diesel generator in China, which integrates design, supply, commissioning and maintenance of diesel generator set. Product covers Cummins, Perkins, Volvo, Yuchai, Shangchai, Deutz, Ricardo, MTU, Weichai etc. with power range 20kw-3000kw, and become their OEM factory and technology center.