In Using of Dingbo 800KW Yuchai generating set should pay attention to the eight problems, specific as follows:
1. Check whether the oil pressure, oil temperature, cooling water temperature, charging current and other instrument indicators are normal.
2. Observe whether the voltage, current and frequency of Huaquan 800kW Yuchai generator set are normal.
3. Observe whether the smoke exhaust color of the diesel generator set is normal.
4. Check whether the unit has oil leakage, water leakage, air leakage, air leakage and electricity leakage phenomenon.
5. Check whether the spark of generator brush is normal.
6. Pay attention to whether there is abnormal sound, vibration and smell of coke in the operation of Huaquan 800KW Yuchai generator set.
7. Check whether the bolts are loose and the grounding connection is reliable.
8. Check whether the control disk is abnormal, etc.
Yuchai generator in the process of operation will produce a lot of heat, if the heat can not be lost, the diesel engine will be lost, in order to ensure good heat dissipation effect, generator room to have good ventilation; Two is to maintain the normal operation of diesel generator radiator, which is particularly important for the maintenance of yuchai generator radiator, the following is the maintenance method of yuchai generator radiator for everyone
Corrosion problems in the radiator is the main cause of failure, always keep the pipe joint not to leak, and from the top of the radiator regularly add water to discharge air to keep the system "air free". Diesel generator radiators should not be partially flooded, as this will accelerate corrosion. For diesel generators that are not working, drain or fill them up completely. If possible, use distilled or naturally soft water and add a moderate amount of rust inhibitor.
Guangxi Dingbo Power Equipment Manufacturing Co., Ltd. established in 2006, is an manufacturer of diesel generator in China, which integrates design, supply, commissioning and maintenance of diesel generator set. Product covers Cummins, Perkins, Volvo, Yuchai, Shangchai, Deutz, Ricardo, MTU, Weichai etc. with power range 20kw-3000kw, and become their OEM factory and technology center.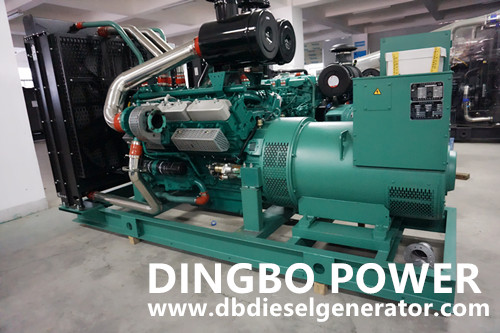 Detail information of Yuchai Supplied by Dingbo Power
Power range: 25kva-2750kva
Yuchai is the largest independent engine manufacturer in China. Dingbo Power is authorized as OEM supplier of diesel engine for genset by Yuchai. Our Yuchai engine generator set is widely used in truck, Bus, construction equipment, agricultural equipment etc. The reliable quality has won favor from customers. Emission meet Tier 2 and Tier 3 standard. Yuchai genset 1000kva-2000kva can meet Tier 5/ Euro Stage VI.
Quality is always one aspect of choosing diesel generators for you. High-quality products perform well, have a longer lifespan, and ultimately prove to be more economical than cheap products. Dingbo diesel generators promise to provide high-quality products. These generators undergo multiple quality inspections during the entire manufacturing process, except for the highest standards of performance and efficiency testing before entering the market. To produce high-quality, durable and high-performance generators is the promise of Dingbo Power diesel generators. Dingbo has fulfilled its promise for each product. The experienced professionals will also help you choose the right diesel generating sets according to your needs. For more information, please continue to pay attention to Dingbo Power.