The normal operation of the breeding plant diesel generator set plays a role, and the mutual division of labor and cooperation of various accessories is inseparable. The role of each accessory is also inseparable from our daily maintenance and maintenance.
1. The main problem in the maintenance of diesel generator radiator in aquaculture plant is to pay attention to corrosion prevention:
Corrosion is accelerated by humidity in the air. Water should be regularly added from the top of the radiator to drain air to maintain "no air" in the system. The radiator should not be in a state of water shortage, which will accelerate corrosion.
2. Pay attention to the coolant of the radiator of diesel engine parts:
Do not clean up the radiator or remove the pipe while the coolant is not cooled. Do not operate on the radiator or open the fan maintenance cover while the fan is rolling.
3. External cleaning:
In a dusty and sundries environment, the joints of the diesel generator radiator will be blocked by debris, insects and other objects, which will affect the efficiency of the radiator. These light deposits can be sprayed with low-pressure hot water plus a cleaner to blow the steam or water from the front of the radiator towards the fan. If sprayed from the opposite direction will force the dirt into the middle. When using this method, block the diesel engine and generator with some paper. Stubborn sediments, which cannot be removed by the above method, need to be removed from the radiator and immersed in hot alkaline water for about 20 minutes, and then washed with hot water.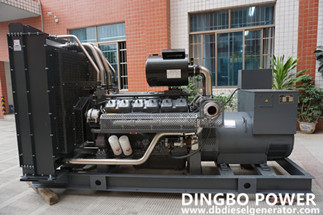 If the heat dissipation of the diesel generator set is not good, the normal operation of the generator set will be hindered, so I hope the maintenance of the diesel generator radiator introduced by panda power can bring reference to users.
We strong technical research and development strength, advanced manufacturing technology, modern production base, perfect quality management system, sound after-sales service guarantee to provide safe, stable and reliable power guarantee for mechanical engineering, chemical mines, real estate, hotels, schools, hospitals, factories and other enterprises and institutions with tight power resources.
From R&D to production, from raw material procurement, assembly and processing, finished product debugging and testing, each process is strictly implemented, and each step is clear and traceable. It meets the quality, specification and performance requirements of national and industrial standards and contract provisions in all aspects. Our products have passed ISO9001-2015 quality system certification, ISO14001:2015 environmental management system certification, GB/T28001-2011 health and safety management system certification, and obtained self import and export qualification.
DINGBO POWER is a manufacturer of diesel generator set, the company was founded in 2017. As a professional manufacturer, DINGBO POWER has focused on high quality genset for many years, covering Cummins, Volvo, Perkins, Deutz, Weichai, Yuchai, SDEC, MTU, Ricardo, Wuxi etc, power capacity range is from 20kw to 3000kw, which includes open type, silent canopy type, container type, mobile trailer type. So far, DINGBO POWER genset has been sold to Africa, Southeast Asia, South America, Europe and Middle East.
Contact Us
Mob.: +86 134 8102 4441
Tel.: +86 771 5805 269
Fax: +86 771 5805 259
E-mail: dingbo@dieselgeneratortech.com
Skype: +86 134 8102 4441
Add.: No.2, Gaohua Road, Zhengxin Science and Technology Park, Nanning, Guangxi, China.