What are the basic requirements of diesel generator sets? Dingbo power share with you.
1. Ac generator shall be synchronous AC motor and brushless excitation mode shall be adopted.
2, ac generator insulation should be grade B insulation, temperature rise. It can operate at 110% rated load for 1h with a cycle of 12h within the allowable temperature rise limit.
3. The alternator should be able to withstand overspeed operation 20% higher than the synchronous value.
4. The protection level of the outlet junction box of the generator set shall be IP42, and the label of the outlet side of the junction box shall be L1, L2, L3, N, and the phase sequence shall be marked with color code.
5. The unit shall be equipped with 207 single-phase anti-condensation heater, which shall be put into operation when the equipment is shut down. The heater shall be connected to a separate junction box.
6. The battery of the unit should be equipped with a metal shell, the protection grade is IP30, and the incoming line isolation switch is set in the battery box. The valve-controlled lead-acid battery is required.Float charge through external power supply AC220V.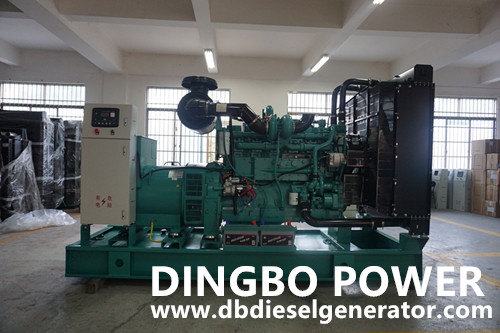 7. The total harmonic content of the output voltage waveform shall not exceed 4%, the deviation coefficient shall not exceed 10%, and the radio interference coefficient (TIF) shall not exceed 50.
8. The combined efficiency of generator set, exciter and governor is not less than 94% at rated load and 0.8 power factor.
9, under steady state conditions, voltage regulation should be in the range of 0.5% of the rated voltage, suddenly load and unload full load, voltage fluctuation should not exceed 20%, and should be in 1
Return to 5% in seconds.
10, diesel generator set with control cabinet.
11, diesel generator with an independent installation of a fuel tank. The fuel tank reserves are considered according to the fuel consumption of the diesel generator in 8 hours. The size of the oil storage room is 2 m x2 m. Should be package
Installation of fuel tank and tubing line from fuel tank to diesel generator.
We strong technical research and development strength, advanced manufacturing technology, modern production base, perfect quality management system, sound after-sales service guarantee to provide safe, stable and reliable power guarantee for mechanical engineering, chemical mines, real estate, hotels, schools, hospitals, factories and other enterprises and institutions with tight power resources.
From R&D to production, from raw material procurement, assembly and processing, finished product debugging and testing, each process is strictly implemented, and each step is clear and traceable. It meets the quality, specification and performance requirements of national and industrial standards and contract provisions in all aspects. Our products have passed ISO9001-2015 quality system certification, ISO14001:2015 environmental management system certification, GB/T28001-2011 health and safety management system certification, and obtained self import and export qualification.
Contact Us
Mob.: +86 134 8102 4441
Tel.: +86 771 5805 269
Fax: +86 771 5805 259
E-mail: dingbo@dieselgeneratortech.com
Skype: +86 134 8102 4441
Add.: No.2, Gaohua Road, Zhengxin Science and Technology Park, Nanning, Guangxi, China.