On September 7, 2021, our company received good news of winning the bid, and successfully won the bid for the 200KW Yuchai diesel generator set for the upgrading and transformation of electromechanical equipment procurement project of Guangxi SPF Vannamei Fine Breeding Farm.
It is understood that the Guangxi SPE Vannamei Fine Breeding Farm is a national-level breeding farm, located in Qisha Town, Fangchenggang City. It covers an area of 130 acres and has modern fishery facilities and equipment. The breeding workshop is 6,600 square meters, the broodstock workshop is 3,600 square meters, and the seedlings are raised. Workshop 4800 square meters, hatching pond 1000 square meters, breeding pond 50 acres, comprehensive laboratory building 1200 square meters, supporting scientific research, production and living facilities, mainly carry out the breeding, expansion and seed breeding scale of vannamei prawns, annual production 250,000 fine-bred broodstock, 5 billion seedlings, and 500 million shrimp larvae. Thank you Guangxi SPE Penaeus vannamei Seed Farm for choosing Dingbo as the winning bidder for this diesel generator set bidding project. Thank you Guangxi SPE Penaeus vannamei Seed Farm for your support to our company!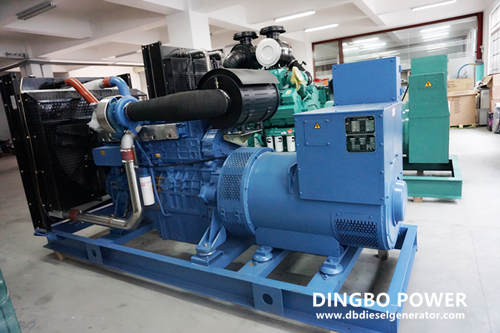 The shrimp industry with a high degree of modernization requires sufficient electricity to ensure the normal operation of shrimp farming. Therefore, power resources are an indispensable condition for farms. Shrimp farms must be close to the power source and power supply must be guaranteed. As a powerful backup power source, diesel generators are very effective for emergency power supply when the public grid fails. When the power grid fails, the diesel generator can ensure that your farming equipment will not stop working due to power outages. This can not only help you avoid production delays and inventory losses, but also help and protect your system from damage caused by sudden power outages.
The supporting power of the Yuchai generator set purchased by the user is a diesel engine manufactured by Guangxi Yuchai Machinery Co., Ltd., which brings together Yuchai Group's rich diesel engine design experience and modern technology at home and abroad, and inherits the high-quality characteristics of Yuchai machinery. , It has the advantages of compact structure, large power reserve, stable operation, good speed regulation performance, low fuel consumption, low emission, and low noise. Guangxi Dingbo Power Equipment Manufacturing Co., Ltd., as an official OEM manufacturer of diesel generator sets authorized by Yuchai Group, has a modern manufacturing base, a professional technical research and development team, advanced manufacturing technology, a complete quality management system, and a complete after-sales service guarantee. Provide you with a one-stop service of design, supply, commissioning and maintenance. Contact us by email dingbo@dieselgeneratortech.com.