Dingbo Power is a manufacturer of diesel generators, founded in 2006, who has its own factory in China. We can supply 25kva to 3125kva genset certified by ISO 9001 quality management system. Today Dingbo Power shares technical specifications of 125KVA silent power generator with trailer.
125KVA silent power generator with trailer is brand new, weatherproof, it has following specifications:
GENERATOR SET
- Heavy duty standby 125KVA
- 380 Volts / 220 Volts
- 3 phase, 4 Wire (L1, L2, L3, Neutral)
- 1800 RPM, 0.8 PF, 60 Hertz
- Eight (8) hours fuel tank capacity at full load(100L)
- Main circuit breaker
DIESEL ENGINE
- Heavy Duty, DCEC Cummins diesel engine model 6BTA5.9-G2, prime 120KW, standby 132KW
- Six (6) cylinder, Four (4) stroke, In Line
- Water cooled, Turbocharged, Direct injection fuel system
- Electric Starter, Electronic Governor
- Exhaust system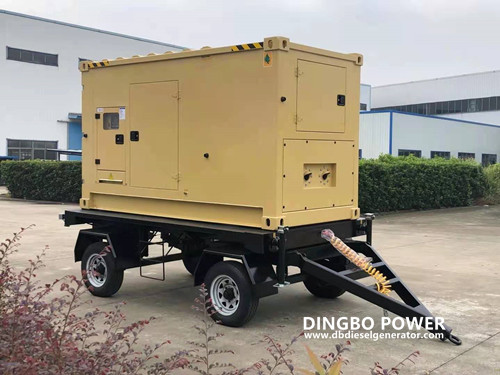 CONTROL SYSTEM
- Heavy Duty, Genuine electronic controller module ( Deep Sea 7320, SmartGen 6110 optional)
- Fully configurable via fascia or PC port via USB
- Auto and Manual starting/operation
- Mains, Generator and Load monitoring and protection
- Digital parameter display for but not limited to Voltage, Current, Frequency, Oil Pressure, Coolant Temperature, RPM and Operating Hours
- Engine shutdown protections for but not limited to Low Oil Pressure, High Coolant Temperature, Over Speed, Under Speed and Over Crank.
- Warning and Fault Alarm System
- Overload Protection
- Emergency stop button
ALTERNATOR
- Brushless, Self-Excite, Self-Regulated, Stamford alternator
- Revolving field, Four (4) Pole
- Automatic voltage regulator
- Class H insulation
- Screen protected
- IP23 protection
ENCLOSURE
- Heavy duty metal enclosure, Powder coated finish
- Soundproof, Weatherproof
- Control panel viewing window
- Lockable control panel and access door panels
- Manufacturers standard dimensions and color scheme
TRAILER
- Heavy duty on-road steel frame / chassis
- Heavy duty wheel and axle, suspensions, rims, fenders and brand new tires
- Road towable with rated tow ring/eye for transportability
- Integrated road visibility rear lights
- Screw jacks for stability
- Anti-vibration mounting(s)
- Hand brake
ADDITIONAL ACCESSORIES
- Battery charging system
- Wire terminal lugs for MCCB, Neutral and Ground
- Battery, filters, lubricants and oils
- Standard maintenance tools with tool box
In addtion, 125KVA silent mobile trailer generator also has following specifications:
A. Ordinary low noise is limited to 75dBA (7 meters away from the unit); The subwoofer is limited to 70dBA (7 meters away from the unit).
B. The underframe adopts double-layer design and is equipped with shock absorption device.
C. The fuel tank, storage battery and muffler of the unit are integrated to facilitate installation and transportation.
D. Observation window and emergency stop button are set to facilitate the operation and monitoring of the unit.
E. The design of air inlet and exhaust is reasonable to ensure the smooth exhaust of the unit.
F. The soundproof room can withstand high temperature, high pressure and waterproof, with good all-weather use function.
Of course, above specifications are as standard configuration. Dingbo Power also can produce power generator according to your required specifications.
Silent mobile trailer power generator sets can be moved flexibly and is widely used in the field operation area, or in factories, coal mines, construction sites and other places with large working area as a common power supply or standby power supply.
Silent mobile trailer generator developed by our company is with environmental protection requirements. It is made of advanced noise reduction technology and new sound-absorbing materials. It is suitable for places with strict environmental noise requirements or narrow space, such as factories, enterprises, hotels, schools, hospitals or residential areas.
If you have plan to purchase mobile trailer generator or other type generator, such as open type, soundproof type, container type, canopy type and so on, please contact Dingbo Power by email dingbo@dieselgeneratortech.com, we will work with you.