Dingbo Power company is a manufacturer of diesel generator set with power range 20kw to 3000kw. For generator sets powered by Volvo engine, power range is 68kw to 560kw.
1.Features of 560KW Volvo generator set.
High load bearing capacity, fast and reliable cold start performance, low resistance turbocharger and quick response fuel injection system, which makes the engine have high load bearing capacity in a very short recovery time.

The heater is installed in the intake manifold, which makes the engine easy to start when the ambient temperature is low.

Stable operation, low noise, optimized shock absorber body, accurate matching supercharger, low speed cooling fan. Low exhaust emission, low operation cost. And the typical exhaust degree is less than 1 Bosch unit.

Low fuel consumption.

Small appearance, compared with other products, the shape design is exquisite and compact.

Sweden Volvo company has a large-scale maintenance and training center in the world.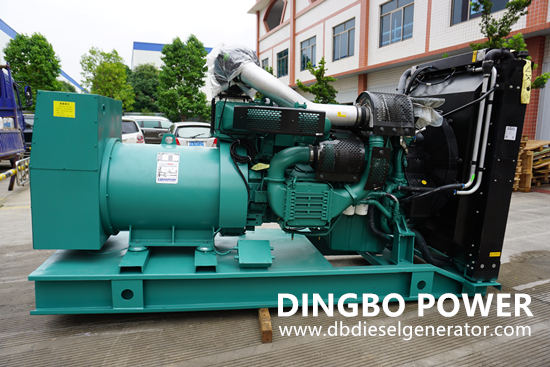 2.Technical specifications of 560KW Volvo generator set
A.Diesel generator set
Manufacturer: Guangxi Dingbo Power Equipment Manufacturing Co.,Ltd
Model: DB-560GF
Type: Open type
Prime power: 560KW
Rated voltage: 400V
Current: 1008A
Speed: 1500rpm
Frequency: 50Hz
Start mode: Electric start
Steady state voltage regulation rate:±1.5%
Transient voltage regulation rate:≤+25%, ≥-15%
Voltage stability time :≤3s
Voltage fluctuation rate:≤±0.5%
Frequency stability time:≤3s
Frequency Waving:≤1.5%
Steady state frequency regulation rate:≤0.5%
Transient frequency regulation rate:≤±5%
Overall size:3460x1400x2100mm Net weight:3600kg
Accessories include silencer, bellow, elbow, 24V DC start-up battery( maintenance-free), battery connecting wire, automatic battery charger, main circuit breaker, standard tools kit, shock pad, factory test report, user manual etc. 8 hours Base bottom fuel tank for options.
B.Volvo engine TWD1645GE
Technical Data
Manufacturer: Volvo PENTA
Model: TWD1645GE
Prime power: 595KW
Standby power: 654KW
Configuration and no. of cylinders:in-line 6
Displacement, l (in³): 16.12 (983.9)
Method of operation: 4-stroke
Bore, mm (in.) :144 (5.67)
Stroke, mm (in.):165 (6.50)
Compression ratio:16.8:1
Lubrication system
• Full flow oil cooler
• Full flow disposable spin-on oil filter
• Bypass filter with extra high filtration
Fuel system
• Electronic high pressure unit injectors
• Fuel prefilter with water separator and water-in-fuel indicator /alarm
• Fine fuel filter with manual feed pump and fuel pressure sensor
Cooling system
• Efficient cooling with accurate coolant control through a water
distribution duct in the cylinder block.
• Dual-circuit
• Belt driven coolant pumps with high degree of efficiency
• Water-cooled charge air coolers
The engine performance corresponds to ISO 3046, BS 5514 and DIN 6271.
C.Technical datasheet of alternator Stamford
Manufacturer: Cummins Generator Technologies Co.,Ltd.
Model:Stamford S5L1D-G41
IP rating: IP23
Telephone Interference:THF<2%
Insulation system:H
Number of poles: 4
Cooling Air Flow: 1.25 m³/sec
Waveform Distortion: NO LOAD < 1.5% NON-DISTORTING BALANCED LINEAR LOAD < 5.0%.
Excitation Mode:Brushless and self- exciting
Voltage regulation:AVR automatic voltage regulation
Alternator efficiency:95%
Stamford industrial alternators meet the requirements of the relevant parts of the IEC EN 60034 and the relevant section of other international standards such as BS5000, VDE 0530, NEMA MG1-32, IEC34, CSA C22.2-100 and AS1359. Other standards and certifications can be considered on request.
D.Controller
SmartGen or Deep Sea
3.Diesel generator supply standard configuration:
Original warranty card of diesel engine (with all accessories, three filters and electrical system)

Steel base, genset factory test report

Engine manual, generator manual, controller manual, genset manual

Diesel generator set with 24VDC starter motor and charging alternator

MCCB air protection switch

24V DC starting battery and battery line, battery charger

Genset shock absorber

Industrial high efficiency muffler
Volvo diesel generator set has the advantages of strong loading capacity, stable engine operation, low noise, fast and reliable cold start performance, exquisite and compact shape design, low fuel consumption, low operating cost, less exhaust emission, economic and environmental protection. If you are interested, welcome to contact us by email sales@dieselgeneratortech.com, we would like to send price to you.