Yuchai generator neutral line to ground voltage abnormal, is a more dangerous situation, which must be dealt with as soon as possible. But if you want to be able to deal with it correctly, you should first make clear what the specific situation is in addition to yuchai generator neutral line to ground voltage anomaly, and come to see the introduction in the following.
(1) Under normal circumstances, due to the influence of high harmonics or manufacturing process, the air gap under each magnetic pole is not uniform and the magnetic potential is not equal. If the voltage is one to a few volts, there's no danger, no need to deal with it.
(2) Short circuit or poor insulation of generator windings to the ground, resulting in deterioration of the performance of electrical equipment and generator, easy to heat, should be repaired in time to avoid the expansion of the accident.
(3) Zero line when no load to the ground no voltage, load voltage, is caused by three-phase imbalance, should adjust the three-phase load, so that its basic balance.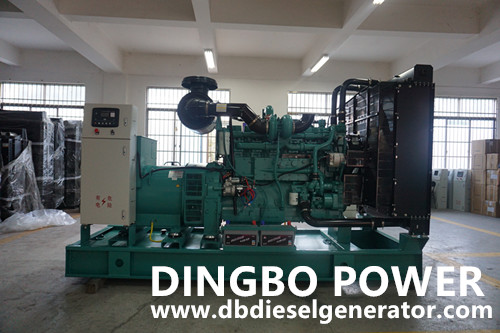 Yuchai generator neutral line to ground voltage abnormal situation, the above is very detailed, if you can deal with the problem, it is naturally very good, as soon as possible to deal with it. But if you can not handle or product quality problems, call Guangxi Dingbo Power Equipment Manufacturing Co., Ltd., the company is your problem terminator.
Guangxi Dingbo Power Equipment Manufacturing Co., Ltd. established in 2006, is an manufacturer of diesel generator in China, which integrates design, supply, commissioning and maintenance of diesel generator set. Product covers Cummins, Perkins, Volvo, Yuchai, Shangchai, Deutz, Ricardo, MTU, Weichai,350kw volvo diesel generator,900kw cummins generator,1000kw cummins generator,1000kw perkins generator,cummins 1000kw diesel generator,600kw cummins diesel generator,250kw volvo diesel generator,600kw cummins generator,1200kw generator,deutz generator set,1000kva cummins generator,300kw volvo diesel generator,125kva diesel generator,280kw perkins generator,650kva electric generator,silent genset etc. with power range 20kw-3000kw, and become their OEM factory and technology center.
Quality is always one aspect of choosing diesel generators for you. High-quality products perform well, have a longer lifespan, and ultimately prove to be more economical than cheap products. Dingbo diesel generators promise to provide high-quality products. These generators undergo multiple quality inspections during the entire manufacturing process, except for the highest standards of performance and efficiency testing before entering the market. To produce high-quality, durable and high-performance generators is the promise of Dingbo Power diesel generators. Dingbo has fulfilled its promise for each product. The experienced professionals will also help you choose the right diesel generating sets according to your needs. For more information, please continue to pay attention to Dingbo Power.