Difficulties in frequency conversion measurement of large wind turbine
1. Low fundamental frequency, no more than 30Hz, up to 0.125Hz, high requirements for low-frequency signal processing capacity of the measuring instrument;
2. In order to be compatible with various motor voltage classes and various test items, voltage and current tests should cover a wide range of amplitude and ensure measurement accuracy within a wide range;
3. Electromagnetic compatibility performance requirements. Due to the use of frequency conversion technology, there are large capacity units and high-frequency switching equipment, high-frequency interference is serious, electromagnetic environment is complex;
4. High power measurement accuracy is required, especially under the condition of low power factor. The accuracy of power testing directly affects the efficiency of the motor, inverter and the whole system;
The solution.
Technical points:
High-performance dual-core embedded CPU module, memory capacity is not less than 2GByte. Its powerful computing capability and large storage capacity provide a strong guarantee for high sampling rate and long Fourier time window.
The sensor adopts seamless automatic range conversion technology, with 8 automatic conversion gears for voltage and current channels, ensuring high precision within 200 times dynamic range.
Using unique front-end digital technology and optical fiber as transmission medium, it can effectively cut off the propagation path of electromagnetic interference and has strong electromagnetic compatibility characteristics.
Using the sensor with clear nominal phase index, the power of wind turbine under different power factors can be accurately evaluated.
High and low voltage backup power system selection
Compare the capacity and economy of electrical systems. High-pressure diesel generator sets are generally used in the following three situations:
1. High-voltage or medium-voltage equipment is installed in a large data center;
2. The number of parallel sets of low-voltage diesel generator sets is too large, and the bus current is too large, which cannot meet the requirements of the bus internal current-carrying capacity;
3. The power supply lines provided by the power supply department are far away.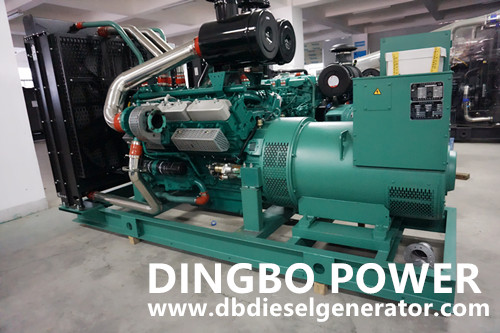 01 The performance level
Data centers have strict requirements on the output frequency, voltage and waveform characteristics of the diesel generator set, and the performance level of the diesel generator set with backup power should not be lower than G3 level.
02 The power to choose
The output power of the diesel generator set should meet the needs of the large average load of the data center, and the output power of the generator set of the class A data center should choose COP to control the continuous operation power according to the continuous operation power; The load characteristics of class B data center, reliability of mains and economic investment, and output power of generator set can be selected as LTP.
03 Generator set power correction
Consider the influence of environmental conditions on the output power of diesel generator set, such as altitude, atmospheric pressure, temperature and other factors.
04 Redundancy requirements
The redundancy requirements of the diesel generator set should be determined according to the data center level and operating requirements, such as N+1, N+X, and 2N, to determine the number of diesel generators. Future power growth needs of the data center should also be considered and some surplus capacity set aside.
Guangxi Dingbo Power Equipment Manufacturing Co., Ltd. established in 2006, is an manufacturer of diesel generator in China, which integrates design, supply, commissioning and maintenance of diesel generator set. Product covers Cummins, Perkins, Volvo, Yuchai, Shangchai, Deutz, Ricardo, MTU, Weichai etc. with power range 20kw-3000kw, and become their OEM factory and technology center.