There will be various uncertainties in the operation of yuchai diesel generator. What is the voltage instability of diesel generators?
The speed of diesel generator set will increase after the beginning of the observation of voltage and frequency stability, with the increase of speed, voltage and frequency fluctuation is very large, but the diesel engine tends to be stable, soot emission is light gray, which indicates that the diesel engine is working normally, in the control box and exciter may occur failure.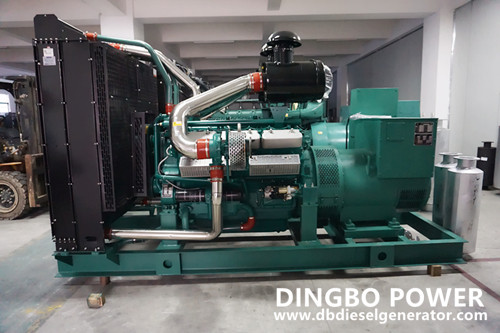 2. The exciter and all related circuits are abnormal when measured with a multimeter.
3. Adjust the stability of AVR control board. Please note that no more diesel generator set information can be deleted
4. After the generator shuts down, charge it with 6V battery. The diesel engine starts at a speed of 750 r/min and the generator starts to boost the voltage.
5. After flameout, start the diesel engine again, observe the response of the frequency and voltage of the generator, and find that the frequency and voltage of the generator are unstable.
6. After shutdown, the diesel engine starts up at a higher speed (increasing the fuel supply of the governor), and under the condition of stable generator frequency and voltage, the diesel engine restarts to about 800 r/min. However, when the control handle is reduced to start the diesel engine, the frequency and voltage of the generator are unstable. After repeated tests, it is concluded that the starting speed of diesel generator set must be within the range of 750~800 r/min to generate electricity, and the fluctuation range of voltage and frequency can meet the requirements.
DINGBO POWER is a manufacturer of diesel generator set, the company was founded in 2017. As a professional manufacturer, DINGBO POWER has focused on high quality genset for many years, covering Cummins, Volvo, Perkins, Deutz, Weichai, Yuchai, SDEC, MTU, Ricardo, Wuxi etc, power capacity range is from 20kw to 3000kw, which includes open type, silent canopy type, container type, mobile trailer type. So far, DINGBO POWER genset has been sold to Africa, Southeast Asia, South America, Europe and Middle East.
OUR COMMITMENT
♦ Management is implemented in strict accordance with ISO9001 Quality Management System and ISO14001 Environmental Management System.
♦ All products are ISO-certified.
♦ All products have passed rigorous factory test to ensure high quality before ship.
♦ Product warranty terms are strictly enforced.
♦ High-efficiency assembly and production lines ensure on-time delivery.
♦ Professional, timely, thoughtful and dedicated services are offered.
♦ Favorable and complete original accessories are supplied.
♦ Regular technical training are provided all year round.
♦ 24/7/365 Customer Service Center provides fast and effective responses to customers' service demands.
Mob.: +86 134 8102 4441
Tel.: +86 771 5805 269
Fax: +86 771 5805 259
E-mail: dingbo@dieselgeneratortech.com
Skype: +86 134 8102 4441
Add.: No.2, Gaohua Road, Zhengxin Science and Technology Park, Nanning, Guangxi, China.