With the development trend and development of The Times, for diesel generating set equipment also constantly to carry out the development trend and development of diesel generator set makes diesel generating set in use in our daily life also becomes more and more wide, although won the good development trend, but also has a problem. Therefore, relevant personnel must continue to carry out sound and sound, and promote the development trend of diesel generator set automation technology.
Diesel generator set automation technology has two kinds of expression, one is fully automatic diesel generator set, that is, automatic technology and automatic conversion, do not need everyone for use, but be sure to use automation technology control module on the basis of should also add a set of automatic conversion switch cabinet can be achieved. It is when the power is off, the diesel generator set automatically detects the signal and automatically starts the power, and then automatically closes. When the mains call, automatic break, automatic shutdown, and return to the initial situation, waiting for the next start.
The other is the self-starting diesel generator set, which must only be an automation technology control module, when the detection of power failure, the diesel generator set will automatically start, manually to close. When the electricity comes, the diesel generator set is only automatically shut down, but it is not easy to automatically break, and it must be used artificially. At this stage, the two kinds of diesel generator set automation technology are more on the market, the price is not the same. Prompt you consumers in the selection of automation technology generator set carefully selected, in order to prevent a lot of unnecessary consumption. For example, the fire backup diesel generator set chooses more full automation technology functions, and in general, the use of self-starting diesel generator set can.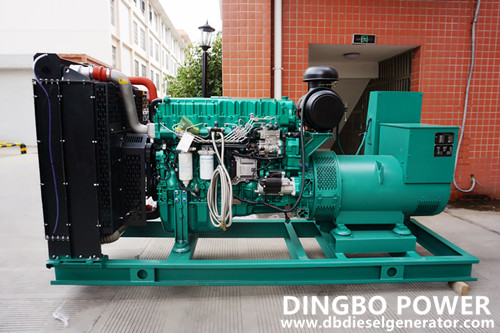 Diesel generator sets are widely used in various fields. Diesel generator sets belong to power generation equipment, the use and use of special equipment are very wide range, and by the majority of the people. In some areas is very available, the special equipment not only as a kind of separate power supply, lighting and power supply, but also as an emergency backup power supply, such as: in buildings, hospitals, banks and other areas have power or power problems can use the special equipment to restore power supply.
Dingbo has strong technical research and development strength, advanced manufacturing technology, modern production base, perfect quality management system, sound after-sales service guarantee to provide safe, stable and reliable power guarantee for mechanical engineering, chemical mines, real estate, hotels, schools, hospitals, factories and other enterprises and institutions with tight power resources.
From R&D to production, from raw material procurement, assembly and processing, finished product debugging and testing, each process is strictly implemented, and each step is clear and traceable. It meets the quality, specification and performance requirements of national and industrial standards and contract provisions in all aspects. Our products have passed ISO9001-2015 quality system certification, ISO14001:2015 environmental management system certification, GB/T28001-2011 health and safety management system certification, and obtained self import and export qualification.