A wind turbine is a power machine that converts wind energy into mechanical work, also known as a windmill. Broadly speaking, it is a kind of heat energy utilization generator with solar micro-heat source and atmosphere as working medium. Wind turbines use natural energy and are much better than diesel power. However, if used in an emergency, it is inferior to a diesel generator. Wind power cannot be regarded as a backup power source, but can be used for a long time.
One, the basic structure of the generator set.
Wind turbine consists of wind wheel, transmission system, yaw system, hydraulic system, brake system, generator, control and safety system, engine room, tower and foundation.
The functions of the main components are described as follows:
(1) Blade Blade is a unit that absorbs wind energy and is used to transform the kinetic energy of air into mechanical energy of impeller rotation.
(2) By changing the pitch Angle of the blade, the blade is in a perfect state of absorbing wind energy at different wind speeds. When the wind speed exceeds the cutting speed, the blade will brake along the blade.
(3) Gearbox Transmission is to transfer the power generated by the wind wheel under the action of wind to the generator, and make it obtain the corresponding speed.
(4) Generator Generator is a component that converts the mechanical kinetic energy of impeller rotation into electrical energy. The rotor is connected to a frequency converter which provides adjustable frequency voltage to the rotor circuit. The output speed can be adjusted within 30% of the synchronous speed.
(5) Yaw system Yaw system adopts active windward gear drive mode, with the control system, so that the impeller is always in the windward state, make full use of wind energy, improve power generation efficiency. At the same time, provide the necessary locking torque to ensure the safe operation of the unit.
(6) Hub system The role of the hub is to fix the blades together and bear various loads transferred to the blades, which are then transferred to the rotating shaft of the generator. The hub structure is equipped with three radial horns.
(7) Base assembly Base assembly is mainly composed of base, lower platform assembly, internal platform assembly, engine room ladder and so on. It is connected to the tower by yaw bearings and drives engine room assembly, generator assembly and slurry system assembly through the yaw system.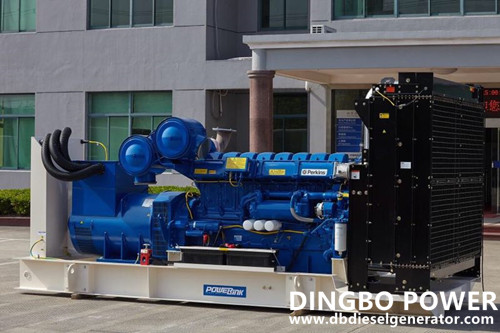 DINGBO POWER is a manufacturer of diesel generator set, the company was founded in 2017. As a professional manufacturer, DINGBO POWER has focused on high quality genset for many years, covering Cummins, Volvo, Perkins, Deutz, Weichai, Yuchai, SDEC, MTU, Ricardo, Wuxi etc, power capacity range is from 20kw to 3000kw, which includes open type, silent canopy type, container type, mobile trailer type. So far, DINGBO POWER genset has been sold to Africa, Southeast Asia, South America, Europe and Middle East.
Contact Us
Mob.: +86 134 8102 4441
Tel.: +86 771 5805 269
Fax: +86 771 5805 259
E-mail: dingbo@dieselgeneratortech.com
Skype: +86 134 8102 4441
Add.: No.2, Gaohua Road, Zhengxin Science and Technology Park, Nanning, Guangxi, China.