With the continuous progress of technology, we will have more and more equipment upgrades, with power shortages and waste of electricity is becoming more and more serious environment, who can solve our electricity problem? Industrial diesel generators will provide a good emergency power solution for your business, factory or field work situations.
Why do you choose diesel generators instead of gasoline generators as backup power?
Which industrial diesel generator set to choose to meet your needs? Please contact Dingbo Power! Diesel engines are very efficient and cost effective. Diesel has a higher energy density. The energy density means that more energy can be extracted from diesel than from the same volume of gasoline. Most motor vehicles such as trucks, cars, etc. offer higher mileage. Diesel is heavier and more fuel-efficient than gasoline and has a higher boiling point than water.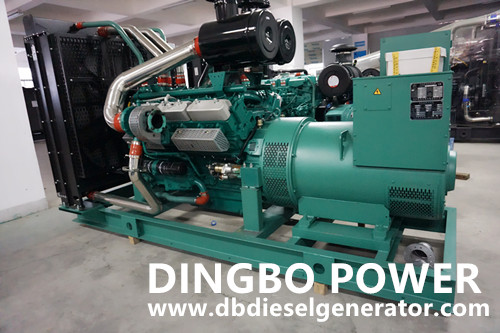 Diesel engines work by compression ignition, while gasoline engines work by spark ignition. In a diesel generator, air is drawn into the engine to produce a higher compression rate, which heats the engine. The temperature of the engine rises, which is much higher than that achieved by a gasoline engine. When the temperature and pressure are at their highest, diesel fuel that enters the engine due to extreme temperatures burns.
At various stages, air and fuel are injected into a diesel generator, while in a gas generator, a mixture of air and gas is introduced. In a diesel engine, fuel is injected through an injector, while a carburetor is used in a gasoline engine. In a gasoline-powered generator, fuel and air are fed into the engine and compressed. Diesel engines only compress air, and at a higher rate. Diesel engines have a compression ratio of 14:1 to 25:1, while gasoline has a compression ratio of 8:1 to 12:1. Diesel generators can be two cycles or four cycles, depending on the mode of operation. Water-cooled generators are much better because they run quietly and are temperature controlled.
Advantages of diesel generators:
Diesel generators are better and more efficient than gasoline generators. Here's part of the reason:
Earlier models of diesel generators had higher noise levels and higher maintenance costs. But modern diesel engines require less maintenance and are quieter than petrol generators.
Diesel generators are more robust and reliable
Diesel engines cost 30 to 50 percent less fuel per kilowatt than gas engines.
There is no spark when the fuel spontaneously combusted. No spark plugs or spark wires reduce maintenance costs.
Diesel engines with 1800RPM water-cooled engines run 12,000 to 30,000 hours before any major maintenance is required.
Gasoline burns hotter than diesel, so they have a shorter life span than diesel devices.
Wide applicability. Diesel generators have large volume, power range of 8-2000KW, suitable for large public or industrial places. And the power range of gasoline generators is between 0.5-10kW, the device itself is relatively small, more suitable for home use.
Dingbo has a wild range of diesel generators:Volvo / Weichai/Shangcai/Ricardo/Perkins and so on,if you need pls call us :008613481024441 or email us :dingbo@dieselgeneratortech.com