The shaft is equipped with a grounding brush, so that the shaft current can be grounded through the brush, in order to reduce the harm to the bearing, which is better than the selection of insulating bearing seat.
Because the air gap is not always so uniform in the installation of the generator, and the impedance in the installation of other coils is not nearly the same, the generator will induce the shaft voltage on the generator rotor in operation. Due to the existence of shaft voltage, the voltage can break down the oil film through the rotor bearings at both ends to form shaft current and burn out the bearing bush in operation. In order to prevent this phenomenon, insulation is added to the generator excitation end bushing seat (the whole bearing is insulated from the ground), and grounding carbon brush is used in the steam end large shaft. Other generator excitation maintenance and rotor measurement of the ground insulation is actually the large shaft of the carbon brush.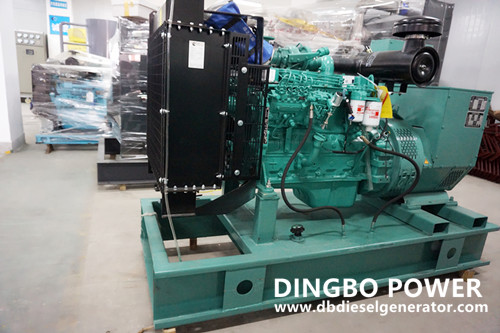 What is the principle of grounding carbon brush of generator manufacturer?
The shaft voltage induced by air gap uniformity or coil impedance difference caused by motor installation error forms a loop through carbon brush and shell, bypassing the bearing. Short-circuit the cross-voltage of the breakdown oil film at both ends of the bearing to prevent the formation of the axial current of the ablative bearing or bearing bush. Earth carbon brush using the instance in large generators, general excitation end bearing seat with insulation (the bearing of insulation), steam side big shaft grounding carbon brush, due to various maintenance and rotor of generator excitation measurement of earth of the insulation is actually receiving the steam side of carbon brush shaft, when the rotor winding on the rotor iron core leakage, excitation the positive or negative ground there will be a grounding voltage, It indicates that the rotor is faulty and should be shut down for maintenance. Grounding brush is generally connected to the rotor insulation monitoring loop, the current flow period to announce the alarm signal.
Guangxi Dingbo Power Equipment Manufacturing Co., Ltd. established in 2006, is an manufacturer of diesel generator in China, which integrates design, supply, commissioning and maintenance of diesel generator set. Product covers Cummins, Perkins, Volvo, Yuchai, Shangchai, Deutz, Ricardo, MTU, Weichai etc. with power range 20kw-3000kw, and become their OEM factory and technology center.