On August 4th, 2021, our company and Guangxi Jianggongfang Real Estate Co., Ltd. successfully signed the contract of 3 sets of 1250KVA diesel generator sets and environment protection noise reduction project in China. One of the 1250kva genset will be used as backup power supply for Villa area , and the other two generator sets are used for the backup power supply of high-rise area project.
high-rise area.
This diesel generator set is equipped with Shanghai Dongfeng engine SY302TAD120 and Shanghai Stamford alternator GR400G.
This is the first cooperation between Guangxi Carpenter Workshop Real Estate and Dingbo Power company. Guangxi Craftsmanship Real Estate Co., Ltd. was established in 2016, located in Nanning, Guangxi, with a registered capital of 100 million yuan. It is a real estate development company under the Kaiyuan Group dedicated to creating cultural-quality architectural works. As a benchmark project for Nanning's new Chinese cultural mansion project, the Huaxia Yard developed by it has won the 2020 Global Habitat Environment Demonstration Residential District, 2020 China Good Life Model Building, 2020 New Chinese Cultural Real Estate Award, and 2020 Guangxi Real Estate Ten classic real estate and other awards. Thank you for your choice of Dingbo Company as the supplier for this diesel generator set procurement project, and thank you for your support to our company!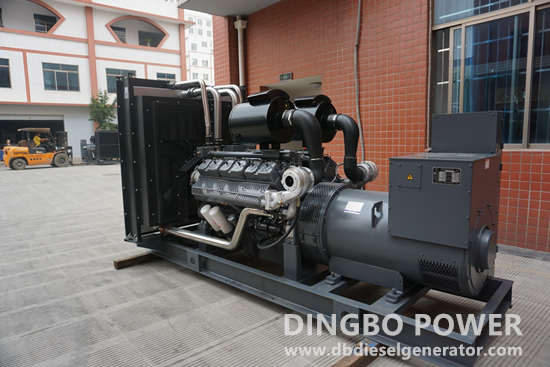 The diesel generator set purchased by the user has bellow advantages:
1. Adopts high pressurization and air-to-air cooling technology.
2. Equipped with a special high-pressure oil pump, a porous low-inertia fuel injector and an electronic governor with good atomization and sufficient combustion.
3. Beautiful appearance, strong power, reliable operation, low noise, energy saving and environmental protection.
The main technical parameters 1000KW/1250KVA Shanghai Dongfeng Generator are as follows:
Manufacturer: Guangxi Dingbo Power Equipment Manufacturing Co.,Ltd
Prime/standby power
1000kw/1100kw
Frequency
50HZ
Rated current
1800A
Rated voltage
400V/230V
Power factor
0.8lag
Net weight
5600KG
Genset size(L×W×H)(mm)
4100×1830×2480
Technical datasheet of Shanghai Dongfeng diesel engine SY302TAD120
Manufacturer: Shanghai Dongfeng Diesel Engine Research Institute
| | | | |
| --- | --- | --- | --- |
| Model | SY302TAD120 | Type | V type, direct injection, 4 stroke, water-cooled |
| Air intake | Turbocharged intercooled | Bore(mm) | 138 |
| Stroke(mm) | 168 | Compression ratio | 14 |
| Displacement(L) | 30.2 | 1h power(KW) | 1250 |
| Fuel consumption | 200 g/kw.h | Oil consumption | 0.7 g/kw.h |
| Steady state speed regulation(%) | 0-5 | Governor type | Electric speed control |
| Idling speed(rmp) | 750 | Speed(rmp) | 1500 |
| Noise(db) | ≤117 | Smoke(FSN) | ≤2 |
| Net weight(KG) | 2150 | SAE interface | SEA 0#/18" |
Guangxi Dingbo Power Equipment Manufacturing Co., Ltd. was established in 2006. It is a Chinese diesel generator brand OEM manufacturer integrating design, supply, debugging and maintenance of diesel generator sets. The company has a modern production base, a professional technical research and development team, advanced manufacturing technology, a sound quality management system, and remote monitoring of top cloud service guarantees. From product design, supply, debugging, after-sales maintenance and maintenance, to provide you with a comprehensive and caring one-stop diesel generator set solution. If you are interested in diesel generator, contact us directly by email dingbo@dieselgeneratortech.com, we will work with you at any time.