On May 2021, Guangxi Dingbo Power Equipment Manufacturing Co.,Ltd exported one set of prime 450KVA standby 500KVA Cummins open type diesel generator set to Thailand. Thanks for the client's support, we will always provide good quality product and perfect service for you.
Guangxi Dingbo Power Equipment Manufacturing Co.,Ltd is a manufacturer of diesel generator set in China, who has focused on generators for more than 25 years. Our diesel generator sets have sold to all over the world and gain good feedback from clients.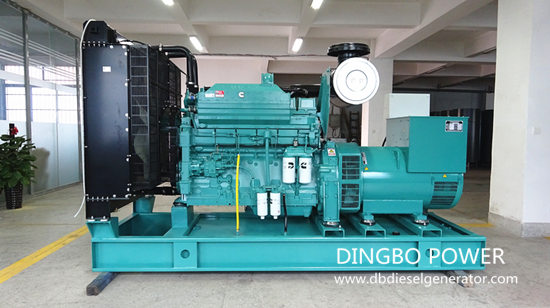 Today we also share technical specifications of the 450KVA Cummins generator set.
1.Technical Specifications of Cummins Generator Set
Manufacturer: Guangxi Dingbo Power Equipment Manufacturing Co.,Ltd
Genset model: DB-360GF
Prime rated power: 360KW/450KVA
Standby rated power: 400KW/500KVA
Rated voltage: 220/380V
Rated current: 648A
Frequency/ speed: 1500rpm/ 50Hz
Power factor: 0.8lag
Start-up mode: manual/automatic
Dimension: 3480x1370x2140mm ( L x W x H)
Net weight: 4000kg
Accessories: base bottom fuel tank for 8 hours, battery, battery charger, CCEC Cummins standard tool kit, use manual, factory test report, certificate etc.
2.Technical Specifications of CCEC Cummins Engine
Manufacturer: Chongqing Cummins Engine Co.,Ltd
Model: KTA19-G3
Prime/standby power: 403KW/448KW
Speed: 1500rpm
Air intake type: Turbocharged Aftercooled
No of cylinder and type: 6, inline
Displacement: 19L
Bore and stroke: 159x159mm
Compression Ratio: 13.9:1
Governor type: Electronic
Start battery voltage: 24V DC
Fuel system: Cummins PT
Total oil capacity: 50L
Total coolant capacity(engine only): 45L
Fuel consumption: 100%:205g/kw.h 75%:205g/kw.h 50%:191g/kw.h 25%:150g/kw.h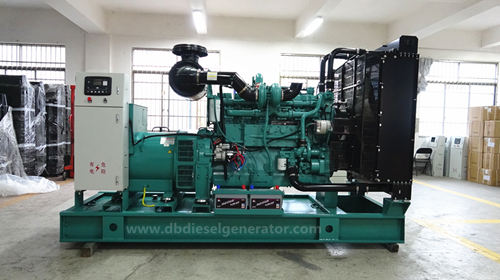 3.Technical Specifications of Stamford AC alternator
Manufacturer: Cummins Generator Technologies(China) Co.,Ltd
Model: HCI 544C1
Alternator capacity: 450KVA
Overload: 10% load can run 1 hour in 12 hours
Type: Brushless self-exciting synchronous generator
Temperature rise class: H
Insulation class: H
Enclosure protection degree of generator: IP23
Voltage regulation: AVR
Number of phase and Access Act: 3-phase 4-wire, Neutral grounding
Alternator efficiency: 95%
Bearing: single bearing
4.Controller
Manufacturer: Shenzhen Haiway Technology Co.,Ltd
Model: Deep Sea 7320
The technical specification we provided can meet client's requirement, and we can provide competitive price, and fast delivery time. So, the client choose us. All our generator sets are brand full new and high quality, brand covers Cummins, Volvo, Perkins, Deutz, Yuchai, Shangchai, Weichai, Ricardo, MTU etc. Power range is from 20kw to 3000kw. If you also have purchasing plan of diesel generator sets, welcome to contact us by email dingbo@dieselgeneratortech.com, or call us directly by phone +8613481024441. Our sales team will work with you.