On August 30, 2022, Guangxi Dingbo Power Equipment Manufacturing Co., Ltd. sold two sets of 500kw silent Yuchai diesel generator sets. Dingbo ensures that the products meet the requirements of relevant national and industrial standards, and in order to ensure the rights and interests of customers, Dingbo Power will also provide users with a 24 month warranty period after the units are qualified, so that users have no worries about after-sales.
Dingbo Power Yuchai diesel generator adopts digital control system, which has a high intelligence advantage, and its fuel consumption rate and oil consumption rate are far superior to those of similar domestic products. It has been favored by users for a long time. The 500kw Yuchai diesel generator set purchased by users this time is a silent type, which meets the requirements of a 5-meter radius of less than 75 decibels and close to less than 80 decibels under full load noise.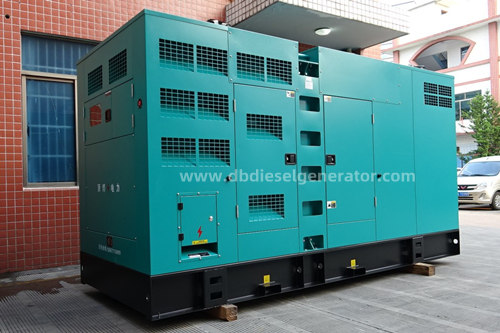 The main technical parameters are as follows:
Rated power: 500kw
Power factor: 0.8
Output voltage: 400/230V (can be adjusted automatically, and the voltage adjustment range reaches 10%)
Overload capacity 1.1 times rated current, 1 hour
Equipped with automatic over-current, over temperature, overspeed and other protections;
Monitoring requirements: voltage, current, frequency, power, water temperature, oil pressure, speed, etc.
This two sets of 500KW Yuchai diesel generator are powered by Yuchai engine YC6TD840-D30, Shanghai Stamford alternator and SmartGen controller. Maybe less people know Yuchai engine and are worried about its quality. Dingbo Power can promise Yuchai engine quality is very very good with 15 years of experience in generating sets. Dingbo Power has cooperated with Yuchai since 2006, and now is the OEM supplier of Yuchai engine in China, the market share in China and overseas is also rising. Maybe Dingbo Power is a small factory and you also never hear it, but we want to say a small company also can produce very good product.
Dingbo Power treats every customer with great sincerity and provide them with real prices. From product design, supply, commissioning and maintenance, we will provide you with an all-round and considerate one-stop diesel generator set solution.
The diesel generator set produced by Guangxi Dingbo Power Equipment Manufacturing Co.,Ltd is powered by Yuchai, Shangchai, Weichai, Jichai, Sweden Volvo, Cummins, Perkins, Ricardo, MTU and other well-known diesel engine brands at home and abroad. The products adopt leading turbocharged intercooling, four valve and electronic control technologies, with superior performance, compact layout, accurate and rapid combustion organization, good instant response performance, strong loading capacity, large power reserve and strong power. If you have purchasing plan, welcome to contact us by email dingbo@dieselgeneratortech.com or call us directly, tel/WeChat: 008613481024441.