On April 12th, 2022, Guangxi Dingbo Power Equipment Manufacturing Co.,Ltd exported open type 200kW Shangchai diesel generator to Myanmar. Thanks the client's cooperation.
This 200kW open type diesel generator is with Shangchai China engine SC9D340D2, Shanghai Stamford alternator GR270K, Deep Sea DSE7320 controller.
Guangxi Dingbo Power Equipment Manufacturing Co.,Ltd is the OEM supplier of Shangchai engine of their own generator set, has a good cooperation relationship with Shangchai company for many years.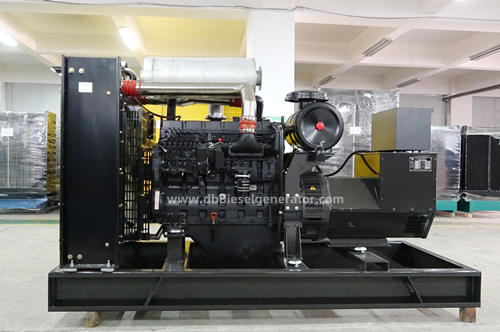 Shanghai New Power Automotive Technology Co., Ltd. (previously known as Shanghai Diesel Engine Co., Ltd.), was founded in 1947 and is now affiliated with SAIC Motor Corporation Limited (SAIC Motor). In 1993, it was restructured into a state-owned holding company that issues A and B shares on the Shanghai Stock Exchange.
Features of 200kW diesel generator set
1. Shangchai engine SC9D340D2
A. This engine has the characteristics of high reliability and good fuel economy. It is the latest engine with advanced technical indicators among China's mature engines. It has been selling well for nearly 20 years and has a market share of more than 1 million units.
B. High strength engine body and integral cylinder head are designed, and the key parts are international first-class brands, with high reliability and good economy.
C. According to SAIC Motor manufacturing standards, the engine quality control system of Volkswagen AG guarantees high product quality and good consistency.
D. The overall structure adopts the integrated design of parts and components. The basic parts are 20% less than those of ordinary diesel engines. The structure is simple and convenient for maintenance.
E. The cold start temperature is -15°C without heating auxiliary devices, and the start temperature with auxiliary devices is -30°C. It has strong environmental adaptability.
2. Shanghai Stamford GR270K alternator
A. Meet the requirements of international high-quality generator standards, self excitation control or optional permanent magnet generator provides continuous short-circuit current capability. Class H insulation meets the requirements of harsh environment.
B. 2/3 winding pitch suppresses excessive neutral current, 12 stator outlet terminals can be reconnected.
C. Single fulcrum or double fulcrum structure, easy installation and maintenance. Standard IP22 protection grade.
3. Deep Sea DSE7320 controller(Auto Mains (Utility) Failure Control Module)
The DSE7320 MKII is a powerful, new generation Auto Mains (Utility) Failure genset control module with a highly sophisticated level of new features and functions, presented in the usual DSE user-friendly format. Suitable for a wide variety of single, diesel or gas Gen-set applications.
Guangxi Dingbo Power Equipment Manufacturing Co.,Ltd has its own factory for diesel generator in China, Shangchai generator covers power capacity 50kW~1000kW. Open type, silent type, trailer type, mobile power generation, containerized type are options. If you are interested, welcome to contact us by email dingbo@dieselgeneratortech.com or call us by phone +8613481024441.