When it comes to international famous diesel generator, many users blurt out that Cummins generator is always the one. Why is Cummins so popular with users? As the world's leading engine enterprise, Cummins has the resource advantage of global operation. If you are uncertain about various brands when choosing generators, believe me, choosing Cummins diesel generators will be never wrong. Why do you say so? Please follow Dingbo power to learn more.
1.Designed and manufactured exclusively by Cummins, the parts have high adaptability
All main components of Cummins power generator: engine, alternator, change-over switch and control system are designed and manufactured by Cummins company. All components are pre integrated at the beginning of the design and manufacturing process, and the design goal is to make the whole unit work harmoniously. The adaptability is very high, and the advantages of each component are brought into full play, achieving the goals of reducing the floor area, improving the power density, reducing emissions and pollution.
In addition to imported engines, the engines with strong performance of Cummins power generators mainly come from Chongqing Cummins, Dongfeng Cummins. The engine for Cummins generator set complies with Cummins' global unified quality, manufacturing and application technical standards, and has the advantages of high reliability and durability, good fuel economy, small size, sufficient power, large torque, etc., which can fully meet the power demand of the generator set and ensure the efficient and stable operation of the genset.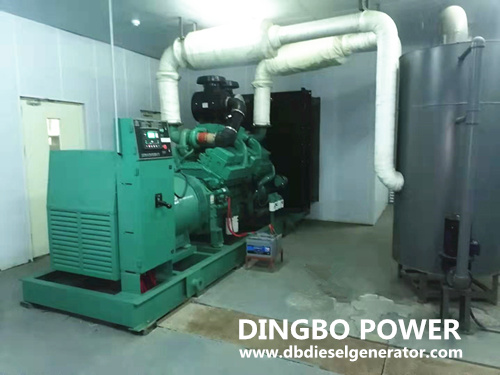 2.It has strong R & D strength and endless product innovation
Cummins power not only has excellent production and manufacturing technology, but also has a strong R & D team, and the R & D strength in China has increased year by year. Relying on Cummins' global R & D and application experience, Cummins power China's R & D team has tailored products with excellent performance for Chinese users and exported them to the global market.
The newly built diesel generator set laboratory in the new base of Cummins East Asia R & D technology center can fully automatically simulate and control environmental parameters such as temperature, air volume and exhaust back pressure, simulate and control false loads under different power factors, different voltages and frequencies, and test the electrical performance, mechanical performance and overall reliability of 44kw-2800kw generator sets under different working conditions.
3.Full life cycle service guarantee, providing high-quality services
Cummins provides customers with a one-stop power solution with stable and strong generator sets and full life cycle services to fully meet their power needs, from early design and development, to unit selection, machine room design and power system design based on customer needs, to product manufacturing, factory inspection and customer site commissioning and delivery, to later operation and maintenance, Improve production and operation efficiency and reduce total operating costs.
As a foreign investor in China's diesel engine industry, Cummins has 30 institutions in China. Dingbo Power is OEM supplier of Cummins engine of their own generator set, Dingbo Cummins diesel generator sets are divided into three series: Chongqing, Dongfeng and imported. They adopt Cummins patented PT fuel system, so that the engine has higher reliability, durability, power and fuel economy while meeting environmental emissions, Welcome to contact us to email dingbo@dieselgeneratortech.com, we will work with you at any time.