Alessio Pulcini, general manager of Deutzfar Machinery Co., Ltd. (hereinafter referred to as Deutzfar) and his party visited Yuchai to carry out in-depth strategic communication and exchanges. During the period, Alessio Pulcini was invited to be hired as a professor at Yuchai Vocational University, and Tan Guirong, president of Yuchai General Machinery Power, issued a letter of appointment for him.
Mr. Alessio Pulcini and his entourage visited Yuchai Science and Technology Museum and Smart Factory successively, and gained a deeper understanding of Yuchai's assembly and manufacturing capabilities and technology research and development level, and expressed full confidence in the further cooperation between the two parties.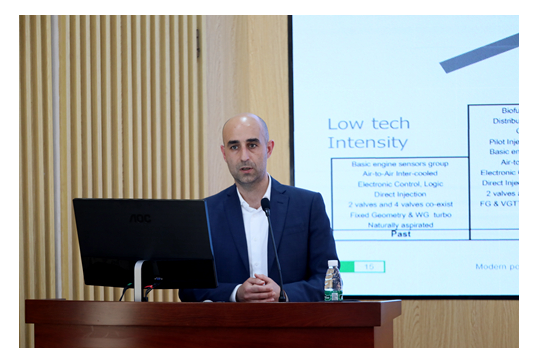 Alessio Pulcini has been committed to promoting the in-depth cooperation between Deutzfar and Yuchai. This visit also gave lectures to technicians from General Motors Division. He shared his insights in the industry for many years around the development trend of tractor powertrain, power system integration, Deutzfar's powertrain thermal management solutions, etc. The audience expressed that they have gained a lot and helped Further promote Yuchai's understanding of tractor market segments and carry out market supporting work.
Over the years, Deutzfar and Yuchai have been actively engaged in cooperation and communication. This time, Alessio Pulcini was invited to be employed as a professor at Yuchai Vocational University, which provided an important platform for enhancing the technical exchanges between the two parties.
On the following day, Alessio Pulcini and his party held friendly talks with Tan Guirong and other leaders of the General Machinery Power Division. The two parties started on the current cooperation status, heavy-duty tractor matching, power-shift high-end chassis development, IE-Power new energy power tractor development and export market development. In-depth exchanges and a number of cooperation agreements were reached. On the occasion of the tenth anniversary of Deutzfar's establishment, the two parties have pushed their strategic cooperation to a new level, which has effectively driven the high-end development of China's agricultural machinery.
Mr. Alessio Pulcini (Alessio Puccini), Italian nationality, graduated from the Politecnico di Milano, with a master's degree in business administration and a doctorate in mechanical engineering. He was once the world's top agricultural machinery manufacturing giant Italy Sime Deutz -The R&D Center of Fahr Group has been engaged in research and development for more than ten years. He is currently the general manager of Deutz Fahr and has successively won many domestic and foreign honors such as the Qilu Friendship Award and National Specially Appointed Expert.
Since 2015, Dingbo Power has became OEM supplier of Yuchai engine of our own manufacturing diesel generator set. And Dingbo Power generator sets powered by Yuchai engine has sold to all over world. Dingbo Power Yuchai generator range is from 20kw to 3000kw, Yuchai quality is also very good, similar to the popular brands, even better quality, if you are interested, welcome to contact us by email dingbo@dieselgeneratortech.com.