On December 02, 2021, Dingbo Power supplied one set of 800kw Yuchai diesel genset to a wharf storage company. This generator is mainly equipped with Yuchai engine YC6C1320-D31, Shanghai Stamford alternator and SmartGen controller. The generator is with automatic start and stop function. Dingbo Power will also provide generator set installation and guide at site and free commissioning. At the same time, Dingbo Power also supplies 10 hours fuel tank, batteries, battery charger, silencers etc. And for the first start-up, Dingbo power will fill full diesel fuel for the user and be be responsible for ventilation, exhaust installation works, and remote monitoring service.
In terms of quality assurance and after-sales service, Dingbo power will provide you with unused new products in strict accordance with the goods performance, technical requirements and quality standards specified in the contract, and the generator coil is wound with 100% copper wire. The product standard can be implemented according to the current national standards, and the equipment provided by us can be guaranteed (except electronic components and vulnerable parts). The warranty period is one year or 1000 hours of cumulative operation, whichever comes first, from the date when the equipment installation is completed and accepted.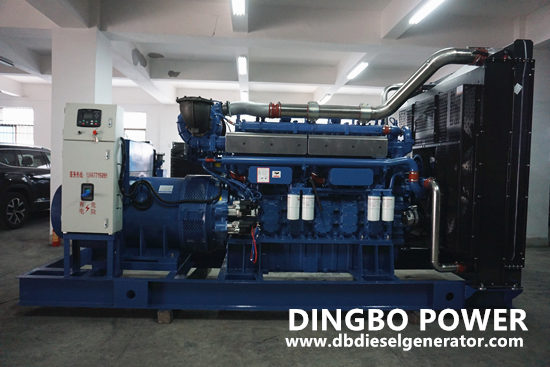 Technical specifications of 800kw Yuchai diesel generator set:
Prime/standby power

800KW/880KW

Diesel engine

Yuchai YC6C1320-D31

Connection way

3 phase 4 wires

Voltage

AC 400V/230V

Speed

1500rpm

Frequency

50Hz

Steady state voltage regulation frequency

±1%

Voltage recovery time

≤1.5S

Transient voltage regulation rate

≤+20~15%

Voltage fluctuation rate

≤0.5%

Frequency adjustment rate

≤5%

Frequency fluctuation

≤5S

Steady state voltage regulation rate

±0.5%

Excitation mode

brushless excitation system

Cooling way

Closed water cooling

Speed regulation mode

Electronic speed regulation

Governor type

Electronic

Air intake mode

Turbocharged Intercooled

Diesel fuel

Light diesel

Power factor

0.8(lag)

Start mode

24V-DCelectric start

Engine speed

1500r/min

Start-up system

24VDC starting motor with charging generator

Emission standard

It meets the environmental protection emission standard of the city where it is used or the equivalent European No. II emission standard

Filtration system

Dry air filter, fuel filter, engine oil filter, air filter, air filter is equipped with resistance indicator to guide maintenance and replacement; The fuel system is equipped with a water separator

Smoke exhaust system

Turbocharger, equipped with smoke exhaust elbow (accessories), corrugated telescopic smoke exhaust pipe (accessories) and industrial silencer (accessories)
Model introduction

The YC6C series engine is an independent research and development product based on the advanced technology of large engines at home and abroad. It adopts four-valve, supercharged and intercooled, and electronically controlled fuel injection system. It has been optimized and verified by Yuchai's advanced combustion development technology. It has the characteristics of energy saving and environmental protection, high reliability, strong loading capacity, and good maintainability.
Model characteristics
•Four valves + supercharged and intercooled technology, sufficient air intake, full combustion, and low fuel consumption.
•Adopting electronic control fuel injection system technology, stable operation, good transient speed regulation and strong loading capacity.
•Adopt high-quality alloy cast iron cylinder block with curved surface reinforcement grid structure, high-strength vermicular graphite cast iron cylinder head, double insurance anti-washing cylinder gasket structure, original cooling technology at the bottom of the cylinder head, high reliability.
•Using Yuchai's proprietary carbon scraping self-cleaning technology, low lubricating oil consumption.
•Adopt electric pre-fuel supply technology to effectively protect the sports pair and increase the life of the engine.
•One cylinder and one cover structure, with maintenance windows on the side of the machine body, which is convenient for maintenance.
• Support dual energy startup.
Quality is always one aspect of choosing diesel generators for you. High-quality products perform well, have a longer lifespan, and ultimately prove to be more economical than cheap products. Dingbo diesel generators promise to provide high-quality products. These generators undergo multiple quality inspections during the entire manufacturing process, except for the highest standards of performance and efficiency testing before entering the market. To produce high-quality, durable and high-performance generators is the promise of Dingbo Power diesel generators. Dingbo has fulfilled its promise for each product. The experienced professionals will also help you choose the right diesel generating sets according to your needs. For more information, please continue to pay attention to Dingbo Power.