1600kva/1280kw Prime rated emergency diesel generator is manufactured by Dingbo Power factory, it is powered by CCEC Cummins engine KTA50-GS8, coupling with original Stamford S7L1D-D41 and Deep Sea controller 7320MKII, mounted on a steel frame structure with skids and necessary dampers and floor anchors. The genset is installed in a canopy container cabinet for outside any building, soundproof and weatherproof.
Dingbo Power includes all the equipment and components necessary to complete the set as a fully operational unit namely control cabinet, electric starter, battery, charger exhaust system, fuel day tank, cables, piping, etc. All mechanical and electrical accessories is mounted on the generator set. The exhaust pipe and muffler is extend outside the generator container. Of course, the exhaust and muffler also can inside the generator container.
This 1600kva Cummins diesel generator meets the standard of ISO9001 quality management system certifications.
1.Generator Set Technical Specifications
Power rating
Rated output: 1600kVA/1280kW @PF 0.8 prime rating according to ISO 8528
Rated voltage: 400V, Wye connected, four wire
Power factor: 0.8
Speed: 1500 RPM
Place of installation: Outdoor in silenced canopy/container
Ambient temperature: 40°C
Sound Level: 65 dBA @ 7 meters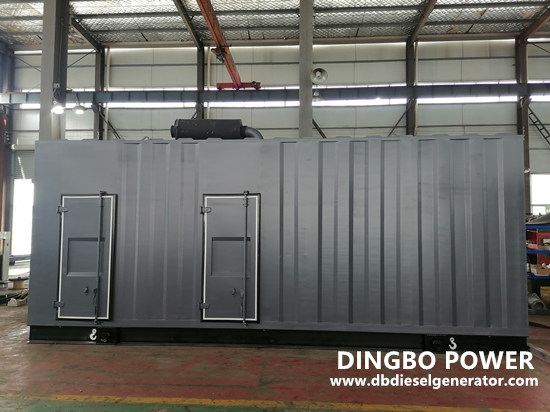 2.Generator Set Performance
Voltage
Automatic voltage regulator is solid state hermetically sealed for moisture protection.
It is three phases, sensing, filtered, with Volt per Hertz regulation and with improved transient response capability.
Voltage regulation: ±1% steady state from no load to full load including variation of power factor 0.8 to 1 and speed variation of 5%.
Voltage adjustment: ±10%
Waveform distortion: Total harmonic distortion with 30% asymmetric load shall be less than 5%.
Short circuit current capability:
300% of rated current for 5 seconds. If necessary Permanent Magnet Pilot exciter can be supplied.
Governor
Governor is electronic type.
Frequency performance: 50Hz
Even that the system will work as a stand alone system (not synchronized to another source) the governor and control system will be suitable to be synchronized to another source.
3.Protections, Control Equipment And Accessories
Engine safety protections
Engine is equipped with automatic safety controls which will shut down the engine in the events of:
-Low lubricating oil pressure.
-High coolant temperature.
-Engine over speed.
-Engine Over crank.
-Bearings high temperature.
-Emergency stop bottoms.
-Low water level.
Generator protections
The generator protection system includes as a minimum the following (Protections shall be adjustable electronic type):
-Under and over excitation.
-Overload.
-Overcurrent (definite time delay).
-Earth-fault.
-Overvoltage, and under voltage.
-Unbalanced Currents.
Alarms
Audible and visual warning signals is provided to indicate, warning alarms, pre-trip/shutdown alarms, and trip/shutdown cause. The system includes at least (the following):
-Low lubrication oil pressure.
-High coolant temperature.
-Over speed.
-Over crank.
-Bearings high temperature.
-Low level of coolant.
-Low level of Lubrication oil.
-Fuel oil - Low level.
-Failure in starting sequence.
-Emergency stop.
-High winding temperature.
-Unbalanced currents.
-Overvoltage.
-Overload & Overcurrent.
-Earth fault.
-Under and over excitation.
-Excitation diode bridge fault.
(Open/short diode).
-Low DC voltage (starting and control).
-Remote trip/shutdown.
-Charger fault.
-EDG control in Local mode.
-Main C.B ON/OFF.
-Main C.B trip.
-Heating system failure.
4.Starting Batteries, Control Batteries and Chargers
1).The D.G. is equipped with a set of 24-volt batteries and a static battery charger.
2).Lead Acid batteries is furnished for starting having sufficient capacity for cranking the engine for at least 40 seconds at firing speed (or according to cranking cycle).
3). A battery rack and necessary cables and clamps including connections is provided. The battery system will be mounted inside a construction with suitable mechanical protection. The poles of the batteries will be protected by covers.
4).A suitable battery-charging alternator is provided with sufficient capacity to recharge the batteries back to normal starting requirements quickly.
5).Automatic battery chargers is provided to maintain the batteries at full capacity.
6).Charger Shall include ammeter, voltmeter, output voltage adjustment potentiometer, and C.B with overcurrent/S.C protection.
7). Battery device and charger sets is provided with test and with under voltage and fault alarm indications and dry contacts connected to SCADA.
This 1600kva Cummins diesel generator will be test and commissioning at 100%, 75%, 50%, 25% load and delivered to client after everything is qualified. We can provide factory test report. We are committed to supply high quality diesel generator to our clients. We also can supply other power capacity from 25kva to 3125kva, if you have purchasing plan, please contact us by email dingbo@dieselgeneratortech.com.