---
As we all know, schools, hospitals and houses are important places for people to live and study. These places represent a quiet and comfortable environment for people. Therefore, it is necessary to adopt some noise reduction schemes for diesel generators in these areas. If you want to reduce noise and mute, you should start with noise reduction technology such as sound insulation and sound absorption, and pay attention to the noise reduction performance of diesel generator sets. The following by the top bo electric power to teach you 5 diesel generator set decibel value detection skills.
How to detect the noise value of diesel generator set and related noise reduction work?
Dingbo electric quiet diesel generator set is divided into box type, vehicle type, power range of 500KW-2400KW, can choose different brands of diesel engines and generators. It adopts shock isolation, noise cancellation, sound insulation, sound absorption and other noise reduction technology, noise level can reach below 80dB, with significant low noise performance, with multi-layer shielding impedance mismatch type sound insulation cover, thus reducing the impact of noise to users.
Significant low noise performance, the unit noise limit is 68 decibels 7 meters from the unit, large impedance compound muffler, noise reduction effect to achieve the best, static box for environmental protection paint type, after pickling phosphating treatment, can play a fire prevention and corrosion prevention effect. And has a unique rain trough and seal design, static speaker rain weather resistance grade higher.
1, the generator set detection should not exceed 1M test distance.
2, the decibel meter in the test of the generator set, respectively from the diesel generator set 1M and 7M noise test.
3. Choose an open and empty site without buildings. No clutter or barriers to the generator set noise secondary increase.
4. Multiple noise data must be tested from several angles outside the generator set, and then the final decibel of the diesel generator set can be obtained comprehensively.
5, choose to test the decibel of diesel generator set in the dead of night, in order to avoid the increase of other noise on the diesel generator set test caused by inaccurate data.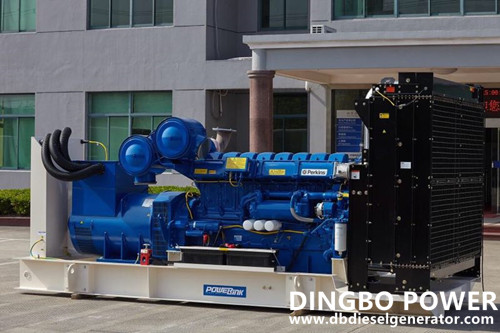 Noise pollution control is also a key subject of environmental pollution, diesel generator noise control is the responsibility and obligation of our diesel generator manufacturers. The normal noise of diesel generator sets is about 110 decibels. People living in such a noisy environment for a long time will lead to schizophrenia and affect people's health. Therefore, it is necessary to do a good job in detecting decibel value and noise reduction of diesel generator set.
Guangxi Dingbo Power Equipment Manufacturing Co., Ltd. established in 2006, is an manufacturer of diesel generator in China, which integrates design, supply, commissioning and maintenance of diesel generator set. Product covers Cummins, Perkins, Volvo, Yuchai, Shangchai, Deutz, Ricardo, MTU, Weichai etc. with power range 20kw-3000kw, and become their OEM factory and technology center.