News events of power outages are still increasing, and in fact, in recent years, the frequency of power outages has increased. Power failure has greatly interfered with everyone's life and work in today's society. Disrupting traffic and shutting down basic businesses such as supermarkets and gas stations is a risk to healthy operation. If you are one of those people who are worried about power outages and are still looking for solutions, diesel generators can also be particularly dangerous if they operate incorrectly. Today, Topo helps you understand the maintenance challenges of five portable diesel generators.
Maintenance problems of 5 portable diesel generator sets
1. Set up proper energy transfer
All electrical systems are set up to handle a particular amount of electricity by virtue of it. If the system is burdened with far more power than the standard, it may lead to serious hazards. When you buy a generator, you should plan where it might be used in different scenarios. This will let you know where you need to move, and there are transfers available.
2, maintenance
As with all types of equipment, it is very necessary to complete the maintenance to achieve its healthy operation. The diesel generator safety checklist should include checking all liquid levels, cleaning the outside and inside of the equipment, replacing belts after long use, and replacing dirty filters. All of these tasks will help keep your generator available in the event of an emergency. Making equipment dirty, worn out, and filled with garbage will certainly inhibit its ability to perform its job. Implementing maintenance will prevent all of these difficulties.
3. Install the monitoring system
One of the real safety challenges of diesel generators is their propensity to emit carbon monoxide. Too much exposure to the gas can cause serious health problems or death. However, there are ways to avoid this type of occurrence by simply installing a monitoring system. The system will keep track of emissions standards. It alerts you if these standards exceed a certain limit. This is especially important because if caught quickly, you can reverse the effects of carbon monoxide poisoning.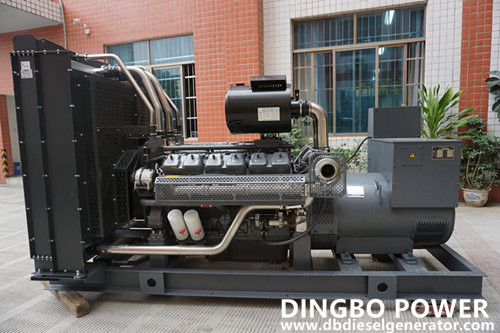 4. Set the area correctly
When the power goes out, it may be tempting to turn on a portable generator. But there are security challenges to watch out for. An easy way to keep your generator safe is to set up the area where the generator will operate before any emergency occurs. It is important that generators have proper ventilation to avoid all fires or other safety hazards. But your generator also needs to be covered to avoid getting wet while running. Therefore, finding an area that is airy but also covered is key.
5. Clean fuel sources
For your diesel generator to operate safely, you need to ensure that the fuel source is always of high quality. This starts with the type of oil you're using, making sure it's the right type and that there aren't a lot of extra additives that can damage the system. But it is especially important to flush the system regularly and add fresh oil. Diesel left behind for long periods of time without being used can cause real damage to equipment.
There are two basic types of generators, backup generators and portable generators. In short, portable generators aim to be light. At the same time, backup generators are developed for more durable applications, such as providing power to entire sites or building facilities during outages. When the main power supply is interrupted, the portable diesel generator will automatically supply uninterruptible power.
Dingbo has a wild range of diesel generators:Volvo / Weichai/Shangcai/Ricardo/Perkins and so on,if you need pls call us :008613481024441 or email us :dingbo@dieselgeneratortech.com