On August 21, 2021, Dingbo power signed a contract for a 120kw silent trailer diesel generator set, the unit will used for a environmental protection project. The genset is equipped with Yuchai engine YC6A205-D30 and Shanghai Stamford alternator, which are brand full new and high quality.
The silent trailer diesel generator purchased by the user this time is equipped with the function of silent mobile trailer. Its design is innovative, flexible, well manufactured, beautiful appearance, and has good sealing and safety. As a mobile power supply, mobile silent trailer diesel generator set can provide convenient and reliable power supply for urban, field construction, rescue, disaster relief and emergency. Now it is loved by more and more users.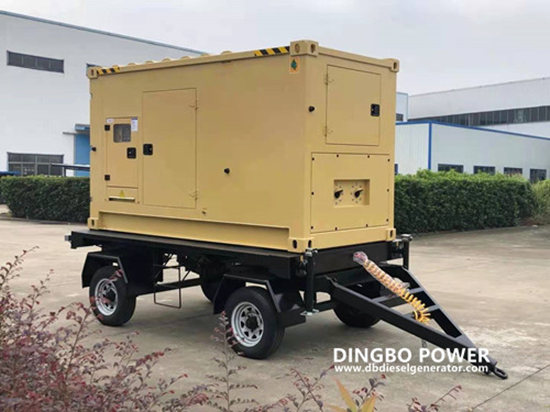 Features of 120KW silent trailer diesel generator
1.Low noise, compact overall mechanism and small occupied space.
2.Silent cabinet is detachable structure, spliced by steel plates, and the surface is coated with high-performance antirust paint. At the same time, it hase the functions of noise reduction and rainproof.
3.Multi layer barrier impedance mismatch silencing structure and built-in large impedance silencer are adopted inside the canopy.
4.The trailer frame adopts groove beam welded into frame structure, with reasonable node selection, high strength and good rigidity.
5.it is equipped with leaf spring suspension structure.
6.The trailer adopts a height adjustable pin type tractor, which is suitable for tractors of various heights.
7.Round steel pipe welded through axle is adopted, with compact structure.
8.Traction: adopt movable hook, 180 ° turntable and flexible steering to ensure safety during driving.
9.Braking: it has a reliable hand brake system to ensure safety during driving.
10.Support: four mechanical or hydraulic support devices are equipped to ensure the stability of the power vehicle during operation.
11.Doors and windows: there are ventilation windows in the front, opposite doors in the rear, and doors on both sides for operators to enter and exit.

12.Anti noise: the trunk and door of the power supply vehicle are all decorated with double layers and equipped with sound-absorbing plates for silencing. The exhaust pipe shall be wrapped with insulating cotton, and the minimum noise can be controlled within 75dB(A).

13.Mechanical support devices are set at the four corners of the frame, equipped with inertial service brake, parking brake and disengagement emergency brake to ensure the safety of the unit under various conditions.

Notes of the use of 120KW silent trailer diesel generator
1. Operate the generator on a location with good ventilation and heat dissipation conditions to create necessary conditions for the heat exhaust pipe channel to the outdoor and fresh air inlet.
2. It shall be close to the low-voltage distribution room or electrical equipment, so as to facilitate wiring, reduce power loss and facilitate operation management.
3. There shall be no ponding nearby, and it shall not be located directly below or close to the place where ponding often occurs.
4. Try to avoid the workplace and living environment with concentrated personnel.
Due to the large power consumption of the construction project, it is difficult to supply the municipal power at the construction site. In fact, the use of municipal low-voltage power supply can not be used due to the unstable voltage change caused by the long line. In the future, to solve the problem of normal power consumption, electric generators need to be used to solve the construction power consumption. There are mainly two types of power consumption and lighting consumption on the construction site.
Above is the information of 120kw silent trailer diesel generator set. Since Dingbo Power set up in 2006, Dingbo power has sold a lot of diesel generators to all over the world and gain many good feedback from the clients. So they purchase from Dingbo Power again and again. If you also are looking for high quality diesel generator set, please contact by email dingbo@dieselgeneratortech.com.