On August 21, 2021, a cement company purchased one set of 500KW diesel generator from Dingbo Power factory. The diesel generator is powered by Cummins engine KTA19-G8 and original Stamford alternator. Dingbo Power factory will supply full new and certified product to the client, and provide installation and testing on site according to the contract.

Here Dingbo Power will introduce the 500kw Cummins diesel generator.
General Features:
1.This 500KW Cummins diesel generator and other all qualified generator sets are subjected to a comprehensive performance test which includes 50% load, 70% load, 100%load, 110% load and to check, verify that all control systems, alarm and shut-down protection.
2.Equipped with battery charger and 24V high performance maintenance-free lead-acid starting batteries and connecting cables.
3.Stainless galvanized zinc plates with strong corrosion-proof.
4.Vibration isolators between the engine/alternator and base frame.
5.Equipped with industrial silencer and flexible exhaust hose.
6.Designed to comply with ISO8528/GB2820.
7.Powered by Cummins engine and coupled with Shanghai Stamford alternator.
8.Water jacket preheater, oil heater and double air cleaner, etc. are available.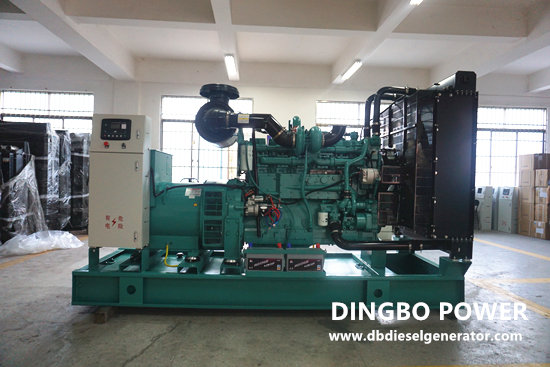 Dingbo Power 500kw Cummins diesel generator datasheet
Manufacturer: Guangxi Dingbo Power Equipment Manufacturing Co.,Ltd
Genset model: DB-500GF
Standby power: 500KW/625KVA
Rated voltage: 230/400V
Frequency/speed:50Hz/1500rpm
Rated current: 900A
Engine make/model: Cummins KTA19-G8
Alternator make/model: Shanghai Stamford GR400D
Controller system: Deep Sea 7320MKII
(1) Prime power: The rating is available for an unlimited of annual operating hours in variable load applications, in accordance with ISO8528-1.A 10% overload is available for a period of 1 hour within 12-hour period of operation, in accordance with ISO 3046-1.
(2) Standby power: The rating is applicable for supplying emergency power in variable load applications for up to 200 hours per year in accordance with ISO8528-1. Overload is not allowed.
(3) Rated voltage: available with customer requirement.
Engine Specifications
Manufacturer: Chongqing Cummins Engine Co.,Ltd
Engine model:KTA19-G8
Cylinder quantity: 6
Cylinder arrangement: In-line Cycle 4
Aspiration: Turbo-charged
Bore x Stroke (mm x mm): 159×159
Displacement: 18.9L
Compression ratio: 13.9:1
Prime power / Speed (KW/RPM): N.A.
Standby power/ Speed (KW/RPM): 575/1500
Type injection system: Direct injection cummins pt
Piston speed: 7.9m/s
Friction energy output: 45kw
Total lubrication system capacity (L): 50
Fuel consumption at 100% load (L/hour): 137 at 1500rpm
Starter motor: Dc 24v
Low idle: 675-775rpm
Coolant capacity (L): 30
Alternator Specifications
Manufacturer: Cummins Generator Technologies Co.,Ltd
Alternator model: Stamford HCI544E1
Exciter type Single bearing, Brushless, Self-excited
Rated output prime power 600KVA
Rated speed 1500 rpm
Rated frequency 50Hz
Number of phase 3
Rated voltage 400V (Available with custom requirements)
Power factor 0.8
Voltage regulation NL-FL ≤±1%
Insulation grade H
Protection grade IP23
Alternator option: Leroy Somer, Marathon, Engga, China alternator Shanghai Stamford
Control System DSE7320
DSE7320 is an advanced control module based on micro-processor, containing all necessary functions for protection of the genset and the breaker control. It can monitor the mains supply, breaker control and automatically start the engine when the mains are abnormal. Accurately measure various operational parameters and display all values and alarms information on the LCD. In addition, the control module can automatically shut down the engine and indicate the engine failure.
FEATURES
1.Microprocessor control, with high stability and credibility.
2.Monitoring and measuring operational parameters of the mains supply and genset.
3.Indicating operation status, fault conditions, all parameters and alarms.
4.Multiple protections; multiple parameters display, like pressure, temp. etc.
5.Manual, automatic and remote work mode selectable.
6.Real time clock for time and date display, overall runtime display, 250 log entries.
7.Overall power output display.
8.Integral speed/frequency detecting, telling status of start, rated operation, overspeed etc.
9.Communication with PC via RS485 OR RS232 interface, using MODBUS protocol.
Sales Promises
DINGBO POWER provides a full line of brand new and high quality products. Each and every unit is strictly factory tested before shipment.
Quality warranty is according to our standard conditions: 12 months from BL date or 1000 running hours, whichever comes first.
Service and parts are available from Dingbo Power or distributors in your location.
Dingbo Power guarantee use BRAND NEW GENUINE MACHINE.
DINGBO POWER factory has focused on Cummins diesel generators for more than 15 years, as well as other engine brands. Dingbo Power can provide 25kva to 3125kva power range, if you are interested, welcome to contact us by email dingbo@dieselgeneratortech.com.