Recently, Guangxi Dingbo Power Equipment Manufacturing Co.,Ltd sold one set of 600kW Yuchai diesel generator set. The diesel generator is with Yuchai engine YC6TD1000-D30 and Shanghai Stamford GR400B, SmartGen controller. It is expected that all the equipment will be delivered within 10 working days.
600kW Yuchai diesel generator is with diesel engine independently developed in combination with the leading technology of large engines at home and abroad. It adopts four valve + supercharging and intercooling technology, with sufficient air intake, low fuel consumption, green environmental protection, high reliability, strong loading capacity and low failure rate.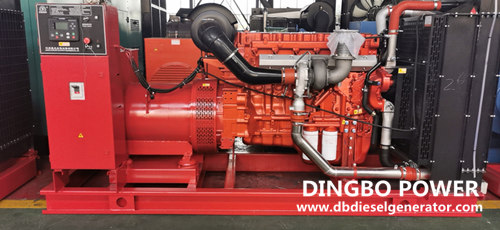 Guangxi Dingbo Power Equipment Manufacturing Co.,Ltd has cooperated with Yuchai for many years, Guangxi Dingbo is the authorized OEM supplier of Yuchai engine of their own manufactured generator set. Many clients like to purchase Yuchai generator set from Guangxi Dingbo.
Guangxi Yuchai Machinery Group Co., Ltd., founded in 1951 and headquartered in Yulin, Guangxi, is an investment and financing management company and a large state-owned enterprise group with capital operation and asset management as the core. It has more than 30 wholly-owned, holding and participating subsidiaries, with an annual sales revenue of more than 45 billion yuan. It has three core strategic industrial sectors: engine manufacturing and its industrial chain, logistics and supply chain services, new energy industry (electric power, automobile) and related services. It is an internal combustion engine manufacturing base with the most complete product type spectrum and the widest application field in China.
Therefore, you do not need to worry about the generator set powered by Yuchai engine, its quality is similar with famous brand, but price is cheaper. And Yuchai also have service center in the world, easy to find the spare parts. If you are interested in Yuchai diesel generator, welcome to contact Guangxi Dingbo by email dingbo@dieselgeneratortech.com, their sales person and engineer will work with you.
Here are some information about Yuchai engine YC6TD1000-D30 for your learning.
Engine manufacturer: Guangxi Yuchai Machinery Co.,Ltd
Model: YC6TD1000-D30
Prime power: 668kw@1500rpm
Standby power: 735kw@1500rpm
Type: Vertical, inline, water-cooling, four stroke
Air intake mode: Turbocharged and Intercooled
Displacement: 19.6L
Compression ratio: 14:1
Min. Fuel consumption: 195g/kw.h
Start mode: electric start
Governor: electronic speed control
Fuel system: electronic unit pump
Emission level: Euro Stage III
Feature of Yuchai engine YC6TD1000-D30
1.Four valve + supercharging and intercooling technology, with sufficient air intake, sufficient combustion and low fuel consumption.
2.Electronic control unit pump technology is adopted, with stable operation, good transient speed regulation and strong loading capacity.
3. High power density.
4.High quality alloy cast iron cylinder block and cylinder head, high reliability.
5.Good cold start performance, double speed reduction starter + electronic fuel injection technology, fast start.
Good universality of parts, high degree of serialization, one cylinder and one cover structure, low comprehensive maintenance cost.
6.Support dual energy start-up.
Diesel generator set produced by Guangxi Dingbo is certified by ISO and CE. Before leave factory, all product do test to ensure there is no any quality problem. If you have purchase plan, welcome to contact us directly by email dingbo@dieselgeneratortech.com.