In November 19, 2021, Dingbo Power successfully won the tender of 800KW/1000kva diesel generating set. This generator is used for real estate. The purchaser is Pingnan Huijing Investment Co., Ltd.
As we know, Pingnan Huijing Investment Co., Ltd. was established on October 29, 2014. It is an enterprise focusing on investment in real estate, scenic spots, construction engineering, municipal engineering and landscaping engineering. The first investment development project "Gong Zhou Xin Tian Di" covers an area of 198329.32 square meters, with a total construction area of 1 million square meters, which integrates folk, culture, art, tourism and real estate. The project is divided into 7 parts, namely, A, B, C, D, E, F and G. Thank Pingnan Huijing Investment Co., Ltd. for its support to Us!
The 1000kva Shangchai diesel generator purchased by the user is powered by Shangchai engine W series model 6WTAA35-G31 produced by Shangchai Engine Co.,Ltd in China. The engine type is V type, water cooling, 4 stroke. It adopts 24VDC electric start, electronic speed regulation, supercharging and intercooling air intake mode, which effectively improves combustion and emission, works stably and economically. The control system is the original AMF25 ComAp control screen imported from the Czech Republic. It adopts the world's advanced all Chinese oil engine main controller, which has a super large 128 × The 64 pixel LCD can display multiple language at the same time. The structure is very simple and compact, very powerful in function, very convenient to operate and very cost-effective. It is an ideal solution for all walks of life, especially the unattended backup power station in the communication room. In addition, the low speed / overspeed alarm, charging failure, emergency stop input, low oil pressure alarm, high water temperature alarm, startup failure, overcurrent, high and low voltage and other alarm protection devices of the unit are also favored by users!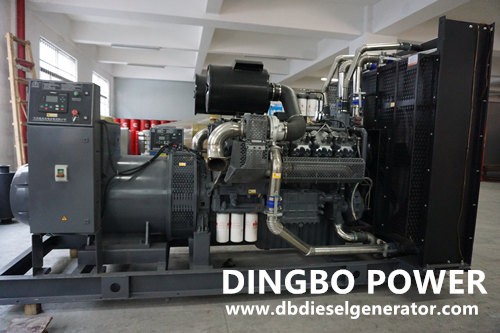 Why the users prefer to use Dingbo Power generator powered by Shangchai engine?
1. Fuel economy, high thermal efficiency. Fuel consumption rate curve changes relatively flat when working conditions change, and it is also economical under low load.
2. Reliable and durable operation. Because there is no ignition system, the fault is low.
3. Wide application range.
4. Low harmful emissions.
5. With good fire safety, the automatic voltage regulation types of generators include: thyristor, phase compound excitation, TD1 carbon resistance automatic voltage regulation, and some use high-power tubes.
6. Easy to do maintenance during standby use. And the whole project cost is the lowest.
In short, Shangchai generator set has excellent power performance, economy, stability, reliability, operability and low operation and maintenance cost. In addition, Dingbo Power company has complete after-sales service of national joint insurance and sufficient supply of accessories. If you have purchase plan of Shangchai generators, please contact us by email dingbo@dieselgeneratortech.com. We will work with you at any time.