On April 1st, 2022, our company successfully signed a contract of 500KW Yuchai diesel generator. This Yuchai diesel genset will provide power for a sewage treatment plant as emergency power supply.
The purchaser is a wholly-owned subsidiary of Huahong Water Group Co., Ltd. It is a company specializing in urban sewage and industrial wastewater treatment, research and development, manufacturing, supply and engineering installation of urban and rural water supply and drainage equipment. Construction of environmental protection high-tech enterprises. The 500kw diesel generator ordered this time is used for emergency backup power supply of Huahong Sewage Treatment Plant in Pingxiang City, a subsidiary of Huahong Environmental Protection Company. The generator set is equipped with YC6TD840-D31 diesel engine of Guangxi Yuchai Machinery Co., Ltd. and ENGGA EG355-500N copper wire wound alternator, and the control module is SmartGen HGM610CAN. The diesel generator adopts advanced electronically controlled unit pump technology and four-valve + turbocharged intercooling technology, with stable operation, good transient speed regulation, strong loading capacity, sufficient intake air, sufficient combustion, low fuel consumption, one cylinder and one head structure, comprehensive maintenance costs are low.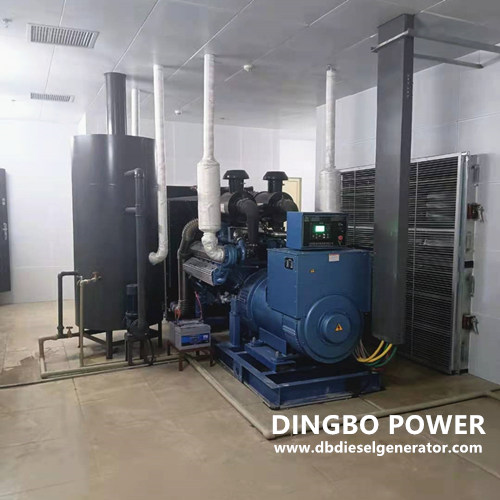 625kVA Yuchai diesel generator technical datasheet
Manufacturer: Dingbo Power
Output power:625KVA/500KW
Stable Voltage Regulation≤±1%
Frequency adjustment rate≤±1%
Rated voltage: 230/400V
Transient Voltage Regulation≤±15%
Transient Regulation≤±5%
Rated Current:900A
Voltage recovery time≤15S
Frequency stabilization time≤1S
Rated frequency:50HZ
Volatility≤±0.5%
Volatility≤±0.5%
Weight:5100KG
Dimension:3550×1450×1840mm(only for reference)
Diesel engine technical datasheet
Manufacturer: Yuchai
| | | |
| --- | --- | --- |
| Model: YC6TD840-D31 | Speed: 1500r/min | Fuel consumption: ≤195g/kw·h |
| Type: 4 stroke | Governor: electric | Oil consumption: ≤0.1g/kW·h |
| Cylinder No.: Inline 6 cylinders | Start mode: 24VDC electric start | Noise level: ≤100(dB) |
| Output power:616KW | Bore x Stroke:152×180mm | Displacement: 19.6L |
| Air intake mode:Turbocharged | Cooling way: closed water-cooled | Compression ratio: 14:1 |
Alternator technical datasheet
Manufacturer: ENGGA
| | |
| --- | --- |
| Model:EG355-500 | Structure: All-in-one |
| Output power:500KW | Overload capacity: overload 10% for one hour |
| Type: Brushless self-excited | Short-time current: 150% 10S |
| Insulation class: H | Electric system: three-phase four-wire, neutral grounding |
| Protection grade: IP22 | Power factor: 0.8 lag |
Dingbo series generator set is a star product with high market selection rate and enjoys a high reputation in the market, and its excellent quality has been unanimously recognized and appreciated by the industry and customers. For more information or advice, please contact us online or by email dingbo@dieselgeneratortech.com.