Dingbo Power, founded in 2006, is a professional manufacturer of high-quality diesel generator sets. Since its establishment, our products have been sold all over the world, especially in China, Europe, Africa, Southeast Asia, South America, etc! And got good feedback from the clients.
Are you looking for generator sets in stock? Do you need diesel generator set urgently? Today, we would like to share all of our diesel generator sets in stock. You can choose the power capacity that meets your needs. Our diesel generators in stock are shown below: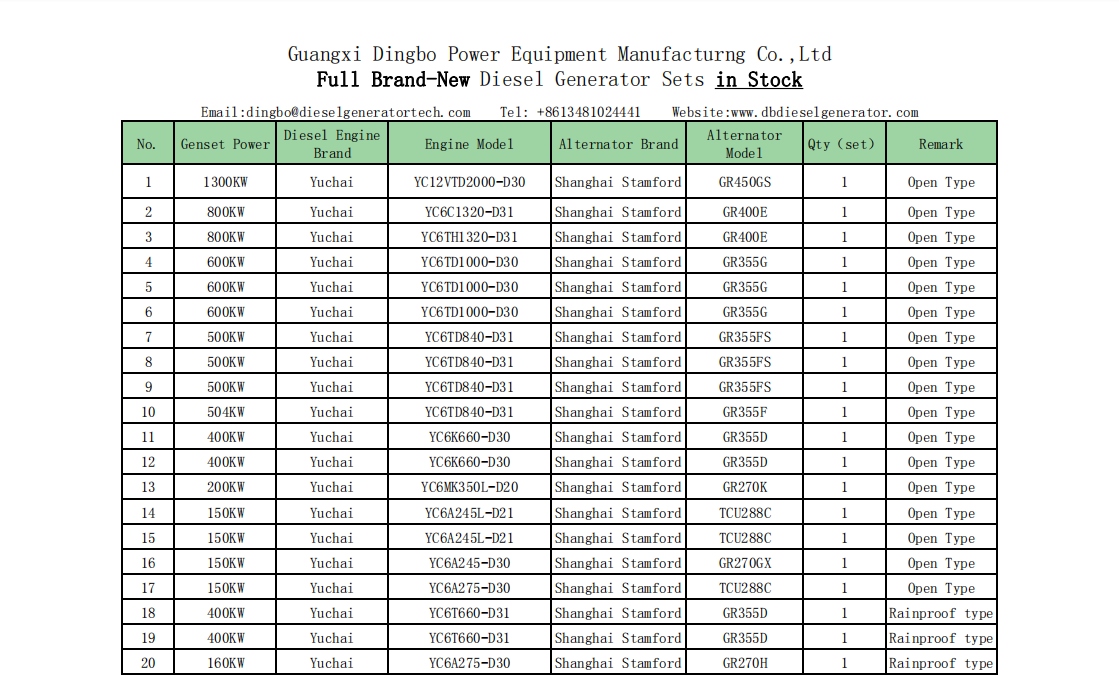 Above diesel generators are ready to ship immediately, quality warranty period: one year or 1000 hours, whichever comes first.
These diesel generators are open type, rainproof type, which powered by Yuchai engine, coupling with Shanghai Stamford alternator, controller is SmartGen or our own brand controller( with Cloud Monitoring/Remote/Control system). We have CE and ISO certiifcate.
Yuchai engine and Shanghai Stamford both are China brand, both have CE and ISO certificate. Every parts of our diesel generators are high quality, you do not need to worry about the quality. Even if the diesel generators are stock products, but every unit is full brand-new, production time is 2021 or 2022, not used (second-hand) diesel generators. Before delivery, we can do load test by load bank for you, we have our own testing system. We deliver diesel generators until qualified. Maybe some suppliers only want to sell product and earn money, then do not care product quality, quote very very cheap price. This is really irresponsible for customers.
While we are selling products, we should also consider everything for the clients, not selling products for the sake of selling products. We can provide help for free, including the technical consulting services. As long as the clients need us, we will reply. We can ensure you can find us anytime.
If you need diesel generator set urgently and we have suitable product, welocme to contact us by call or email, our phone number is +8613481024441, Wechat is same number. Email address is dingbo@dieselgeneratortech.com. Our professional team will work with you at any time!