Dingbo Power has 17 years of experience in manufacturing diesel generators and has won the trust of many buyers. In recent years, Dingbo Power's diesel generator sets have become the preferred driving force in the generator market with excellent product performance and excellent service insurance. This year, Dingbo Power's foreign business is getting better and better, with more and more orders. In July 2023, Guangxi Dingbo Power Equipment Manufacturing Co., Ltd. successfully signed an export trade contract with a purchaser in Madagascar for two 320kw silent Cummins diesel generator sets. On August 5, 2023, two 320kw diesel generator sets were successfully shipped and will soon be able to meet Madagascar's energy supply needs. Thank you very much for the customer's trust and support in Dingbo Power.
These two gensets are equipped with Cummins engine QSNT-G3 and original Stanford S4L1D-F41, and the controller uses SmartGen HGM6120. According to customer requirements, it customized 600 liter bottom fuel tank. In addition, an independent cabinet ATS is also configured, and the circuit breaker is installed in the same position as the ATS. The circuit breaker will protect the ATS. What is ATS? In the event of a power outage, the Automatic Transfer Switch (ATS) will automatically transfer power from the grid to the diesel generator. This means that when there is a power outage, the diesel generator will automatically start without the need for a dedicated person to start it. In addition, there is no need for any specialist to manually shut down the generator - it will automatically shut down and switch back to the power grid when power is restored. Therefore, these two 320kw Cummins diesel generator sets can bring many conveniences to customers.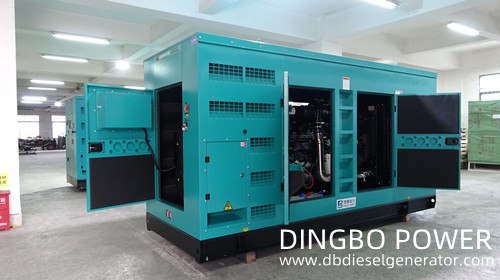 The main technical parameters of the two gensets:
| | | |
| --- | --- | --- |
| Output power: 320KW/400KVA | Stable voltage adjustment rate ≤ ± 0.5% | Frequency adjustment rate ≤ ± 1% |
| Rated voltage: 380/220V | Transient voltage regulation rate ≤ 20~-15% | Transient adjustment rate ≤ ± 10-7% |
| Rated current: 608A | Voltage recovery time ≤ 15S | Frequency stability time ≤ 5S |
| Rated frequency: 50HZ | Volatility ≤ ± 0.5% | Volatility ≤ 0.5% |
Main parameters of diesel engine
Model:QSNT-G3
Speed:1500r/min
Total system capacity:38.6L
Type: Four stroke
Speed regulation method: electric control
Coolant Capacity:21L
Number of cylinders: 6
Starting method: 24VDC electric starting
Fuel consumption at prime power(100%):161.8L/h
Prime/standby power: 358/392KW
Bore stroke: 140 × 152mm
Displacement: 14L

Aspiration:Turbocharged and Charge Air

Cooled

Cooling system: water cooling
Compression ratio: 16.7:1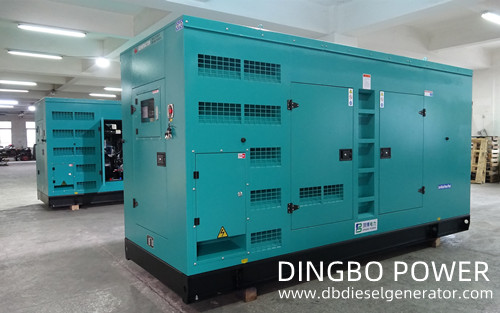 Guangxi Dingbo Power Equipment Manufacturing Co., Ltd. was established in 2006 and is an experienced manufacturer of diesel generator sets. Dingbo Power has a modern production base, professional technical research and development team, advanced manufacturing technology, and a comprehensive quality management system. It can customize various specifications of 30KW-3000KW according to customer needs, including ordinary, automatic, four protection, automatic switching, and three remote monitoring, low noise, and mobile diesel generator sets with special power requirements such as automated grid connection systems. If you are also looking for diesel generator sets, please feel free to contact us via email dingbo@dieselgeneratortech.com .