On August 2th, 2022, China Classification Society (CCS) and Yuchai Marine Power Company held the China Classification Society & Yuchai Ocean Engineering Industry Blockchain Alliance (CSBC) data sharing and Yuchai digital ship inspection platform launch ceremony, which indicates that Yuchai will become the first enterprise in the industry to enter the digital age of product ship inspection, helping the digital transformation and high-quality development of my country's shipbuilding industry.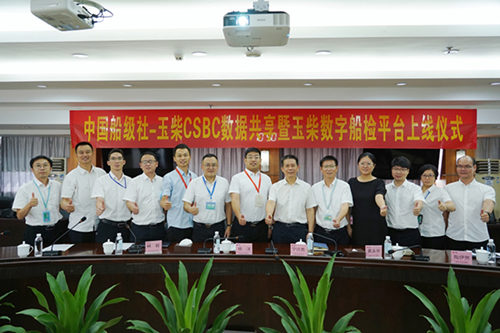 Under normal circumstances, it takes at least 20 years for a ship product to go through design, construction, operation, and scrapping and recycling, and each link needs to undergo strict inspection of ship products. Previously, due to the large number of parties involved in ship inspection, ship inspection Problems such as project inconsistency and the asynchronous data of the inspection systems of various parties have formed an isolated island of industry data, resulting in the ship construction inspection process staying at the site to fill in the paper inspection results, and the inspection parties manually enter the system, resulting in low work efficiency and rework of inspection reports. high rate.
With the digital transformation of my country's shipbuilding industry, China Classification Society and Yuchai have realized CSBC data sharing based on blockchain. In recent years, Yuchai has developed rapidly and product inspection has been continuously upgraded. Efforts have been made to use the data sharing platform and Yuchai's digital ship inspection platform to realize the sharing of basic parameters of product information, product certificate system and inspection data, and optimize the business process of both parties. With the success of Yuchai's digital ship inspection platform On-line, the two parties will continue to maintain deep integration and use digital means to jointly promote the rapid and healthy development of China's shipping industry.
Yuchai's outstanding performance in the industry has always spurred Dingbo Power as an OEM manufacturer of Yuchai's diesel engine of their own generator sets and services help the development of various industries. If you are interested in Yuchai diesel generator, contact us directly.